Ray Dalio, founder of Bridgewater Associates and one of the world's most successful investors, has inspired many with his wisdom on life, business, and investing. Ray Dalio quotes have become legendary for their clarity, simplicity, and practicality.
From the importance of being honest and open-minded to the value of failure and learning, Ray Dalio's words can motivate and guide us in our daily lives.
In this article, we'll look at some of the most memorable Ray Dalio quotes and explore what they can teach us about achieving success. So, let's start!
Who is Ray Dalio
Ray Dalio is an American billionaire investor, hedge fund manager, and philanthropist. He founded Bridgewater Associates, one of the world's largest and most successful hedge funds, in 1975. In addition to his work in finance, Dalio is also a philanthropist, supporting a wide range of causes through his foundation, the Dalio Foundation.
Here are some well-known facts about Dalio:
Dalio was born on August 8, 1949, in Jackson Heights, Queens, New York.
He is one of the world's wealthiest people, with an estimated net worth of over $20 billion.
He is the author of the best-selling book "Principles: Life and Work" which outlines his unique approach to investing and management.
He is a passionate advocate for meditation and mindfulness, which he credits with helping him to manage stress and achieve success in his personal and professional life.
Ray Dalio Quotes: The Mindset of a Billionaire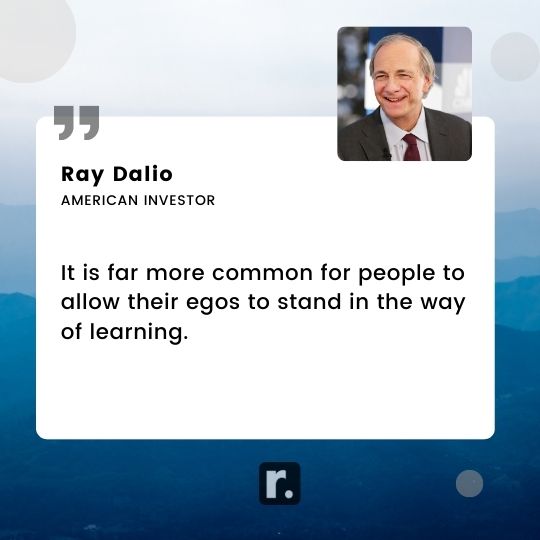 Ray Dalio Quotes on Success, Investing, and Life Lessons
Wrapping up:
Ray Dalio quotes offer valuable insights into success, investing, leadership, and life lessons. His philosophy and principles have helped him build a multi-billion dollar hedge fund, as well as establish himself as one of the most successful investors of our time.
Whether you're an aspiring entrepreneur, an experienced investor, or simply looking for inspiration and guidance, Ray Dalio's words of wisdom can help you achieve your goals and live a fulfilling life.
So, as you go forward, remember these words from Ray Dalio: "Pain plus reflection equals progress." Embrace your failures, learn from your mistakes, and keep striving towards your vision.
With persistence, dedication, and the right mindset, anything is possible.