Commitment is such an essential ingredient for achieving our goals and dreams, don't you agree? Even when faced with hurdles and challenges, it is our passion, perseverance, and constant commitment that keeps us going forward.
To inspire and motivate you on your journey, we've prepared a compilation of passionate commitment quotes from renowned people throughout history.
Whether you aim for a promotion at work, a stronger relationship with your loved ones, or a healthier lifestyle, these commitment quotes will inspire you to stick with it even when things go tough.
So, take a moment to read these powerful words and allow them to motivate you to keep going, no matter what challenges you may face along the path. Also don't forget to check relationship commitment quotes.
Commitment is required for success and fulfillment in life. We may build resilience, overcome challenges, and live a meaningful life by accepting commitment and keeping focused on our goals.
Here are some tips for being committed to something:
Establish specific goals: Having defined goals helps you stay motivated by giving you something to strive towards. Put out your goals and divide them into smaller, more doable phases.
Create a plan: Once you've determined your goals and actions, make a strategy to keep you on track. Your plan should include deadlines and milestones that will allow you to track your progress.
Focus on why: Remind yourself why you're committed to this goal. What drives you? What makes this so essential to you? When things get rough, remember your reasons.
Create a support network: A support network may help you stay committed by giving encouragement, motivation, and accountability. Friends, relatives, or a coach or mentor may all be examples.
Practice self-discipline: Self-discipline is required for commitment, thus it's essential to practice self-control and stick to your plan even when you don't feel like it.
Practice self-compassion: Commitment may be tough, so it's important to exercise self-compassion and be nice to yourself when things don't go as planned. You should treat yourself with the same compassion and understanding that you would extend to a close friend.
Quotes on Commitment to Keep You Motivated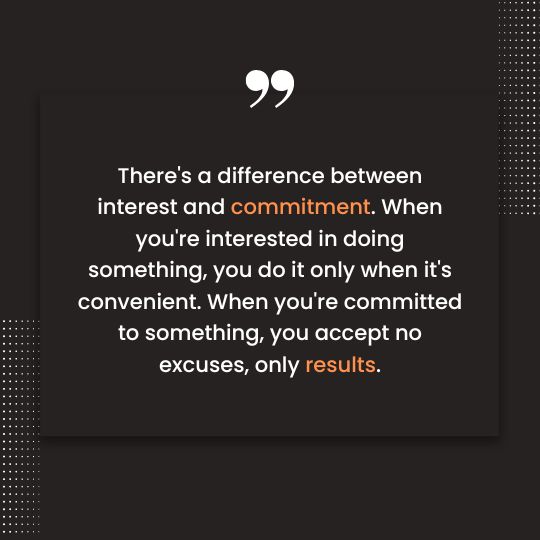 Relationship Commitment Quotes
Stay Committed Quotes To Inspire You
Wrapping Up:
Personally, I have often found myself struggling to remain committed to my goals. I have been tempted to give up in the face of adversity, but I have learned that perseverance and commitment are the keys to success. The quotes mentioned in this article have served as a source of inspiration for me, and I hope they can inspire you as well.
So, stay committed, never give up, and success will be within your reach.
You may also like: