As a writer, I'm always on the lookout for sources of inspiration and wisdom. Lately, I've been drawn to quotes about compassion, which seem to be more relevant than ever in our increasingly divided and turbulent world.
These quotes on compassion remind me that even in the midst of conflict and despair, there is always the possibility of kindness and understanding. In this article, I want to share some of my favorite compassion quotes and reflect on why they resonate with me. Also, don't forget to check Thankful quotes.
Whether you're a seasoned pro when it comes to showing compassion, or you're just starting to explore what it means to be kind and empathetic, this article will provide you inspiration to help you live a more compassionate life. So, let's dive in and explore the transformative power of compassion
Compassion Quotes to Inspire and Motivate You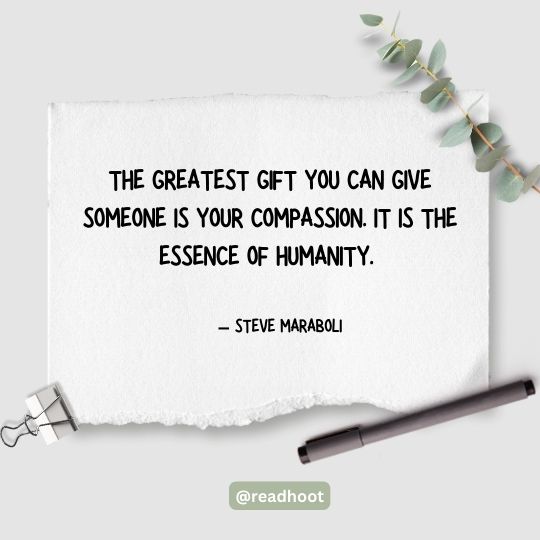 Inspiring Self Compassion Quotes
Why Compassion Is Essential for Our Well-Being
Compassion is something that's close to my heart. When I think about the people who have made the biggest difference in my life, they're the ones who showed me compassion.
Compassion allows us to connect with others on a deeper level, to understand their struggles, and to offer support and comfort when they need it.
When we show compassion, we create a space for people to feel seen, heard, and understood. We create a sense of belonging and community.
Compassion is also good for us as individuals. When we practice compassion, we experience a positive psychological response that can lead to increased happiness, improved mood, and greater well-being.
Compassion can be a powerful tool for healing emotional wounds and promoting forgiveness. By showing compassion, we create a safe space for people to share their vulnerabilities and work through their pain.
Compassion helps alleviate suffering. When we recognize and respond to the pain and struggles of those around us, we can offer practical support, comfort, and encouragement. This helps to create a more compassionate and caring society.
Compassion is a critical component of effective leadership. Leaders who show compassion are better able to connect with their team, to understand their needs and concerns, and to create a positive and supportive work environment.
Cultivating compassion is a practice that can lead to personal growth and self-awareness. When we intentionally work to show compassion to others, we also cultivate personal growth, which can lead to a more fulfilling and meaningful life.
Compassion truly is a powerful force in our lives, and I believe that by practicing it, we can make a positive impact on ourselves, our communities, and the world. If you enjoy this article, also read positive quotes to help you always stay positive.