As someone who has been deeply inspired by Brené Brown's work, I can witness the power of her insights and storytelling. Whether you're already familiar with her research or discovering her for the first time, I believe you'll find her words to be very uplifting.
Brené's work on topics like vulnerability, shame, empathy, and authenticity has changed the way many of us think about ourselves and our relationships with others.
In this article, I'd like to share some of my favorite Brené Brown quotes that have resonated with me personally and offer a glimpse into the wisdom that has made her one of the most influential voices in the world today.
Who is Brené Brown:
Brené Brown is a research professor of social work at the University of Houston Graduate College since 2002, after receiving her Ph.D. in Social Work. She is also a best-selling author and a renowned public speaker. She is well-recognized for her work and TED talks on the issues of vulnerability, courage, empathy, and shame.
Here are a few facts about Brené Brown:
She has published several academic articles on issues such as shame, empathy, and vulnerability.
Brown is the best-selling author of several books, including "The Gifts of Imperfection," "Daring Greatly," and "Braving the Wilderness."
Her TED talks about vulnerability and shame have been watched millions of times and widely discussed and shared.
Brown's research and writing have been praised for their depth, relevancy, and accessibility.
Brené Brown Quotes To Empower Your Journey
Whether you're looking to cultivate greater courage, overcome shame, or deepen your relationships, these quotes offer insight and inspiration to help you on your journey.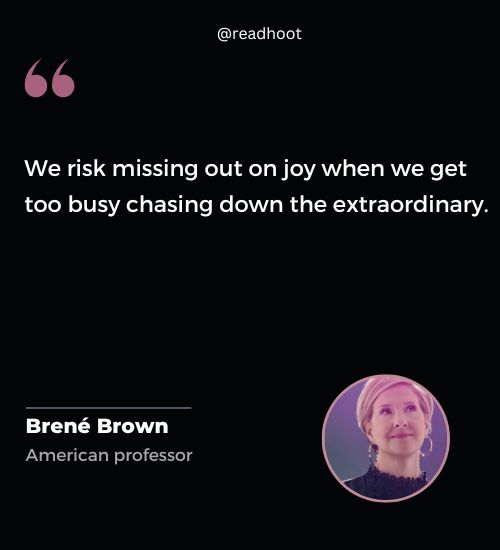 Brené Brown Quotes on Vulnerability and Courage
One of Brené Brown's key themes is the idea that vulnerability is a cornerstone of courage, authenticity, and meaningful connection. Here are some of her most inspiring quotes on these topics:
Brené Brown Quotes On Shame and Empathy
Another major theme in Brené Brown's work is the impact of shame on our lives and the power of empathy to heal and transform. Here are some of her most powerful quotes on these topics:
Brené Brown Quotes on Worthiness and Belonging
Brown's work highlights the importance of feeling worthy and a sense of belonging in our lives. Here are some Brené Brown quotes on Worthiness that reflect these themes:
True belonging is the spiritual practice of believing in and belonging to yourself.