As a fan of classic movies, Audrey Hepburn has always been a source of inspiration to me. Her grace, charm, and elegance on screen have captivated audiences for decades, but it was her wise words that truly left an impression.
Audrey Hepburn quotes provide a glimpse into her life philosophy, which was centered on the pursuit of happiness, the value of compassion, and the force of inner beauty.
In this article, I'll share some of her most famous quotes, what they mean to me, and the timeless lessons they give for living a full and purposeful life.
Who is Audrey Hepburn
Audrey Hepburn was a famous actress and humanitarian. She is best known for her roles in the films "Roman Holiday," "Breakfast at Tiffany's," and "My Fair Lady." Hepburn was also well-known as a UNICEF Goodwill Ambassador, where she advocated for children's rights and humanitarian concerns.
Here are some well-known facts about Hepburn:
Audrey Hepburn was born on May 4, 1929, in Brussels, Belgium.
She was devoted to improving the lives of children in poor nations and worked diligently to increase awareness of the value of education and healthcare.
Hepburn was known for her classic style and grace, and her signature look – the little black dress, oversized sunglasses, and stylish updo – is still copied by fashionistas worldwide.
She was awarded an Academy Award, a Tony Award, and the Presidential Medal of Freedom for her efforts as an actor and humanitarian.
She passed away on January 20, 1993, but her legacy as an actress and humanitarian continues to inspire many people today.
Audrey Hepburn Quotes to Live By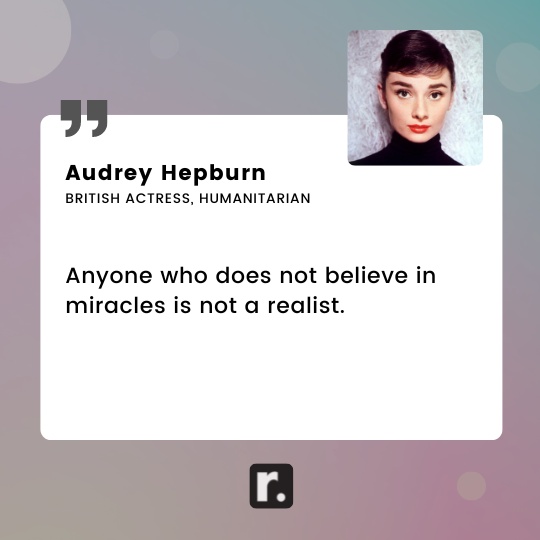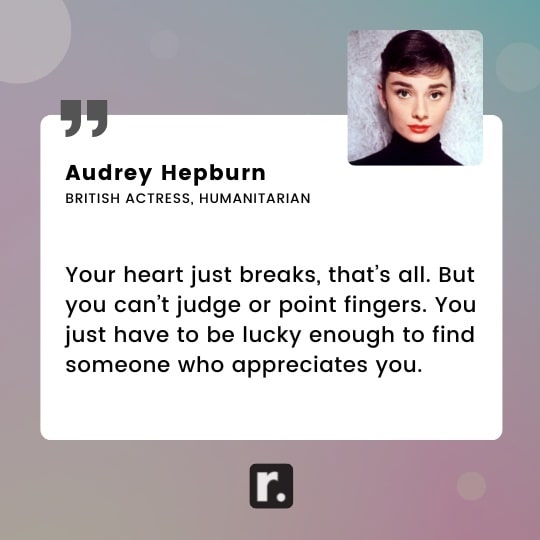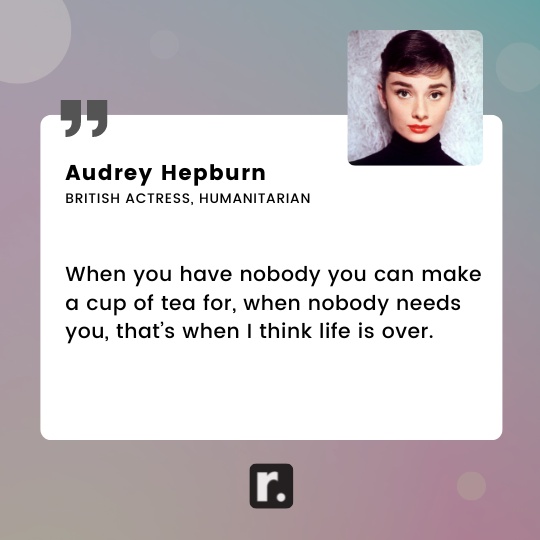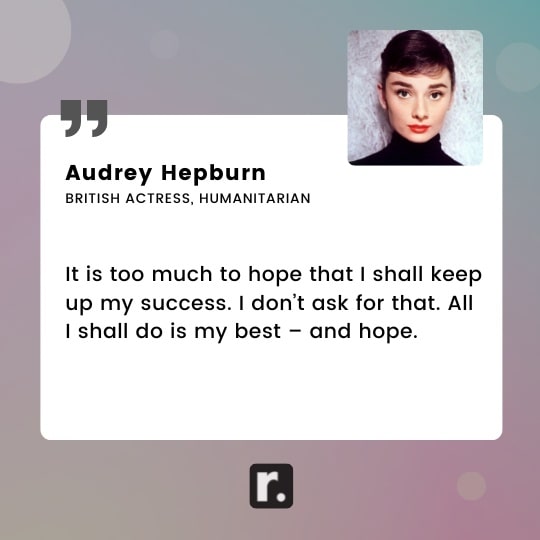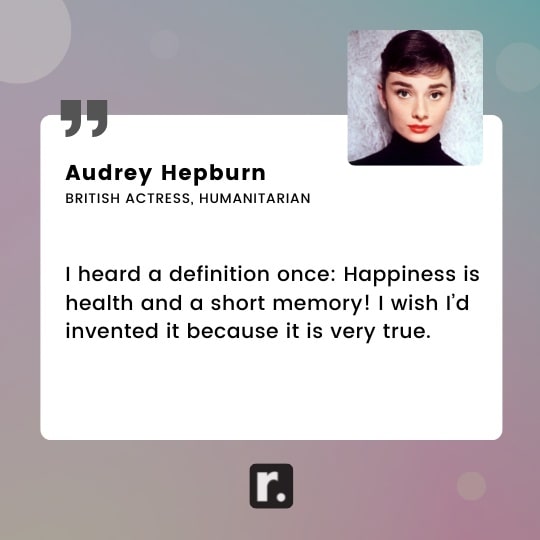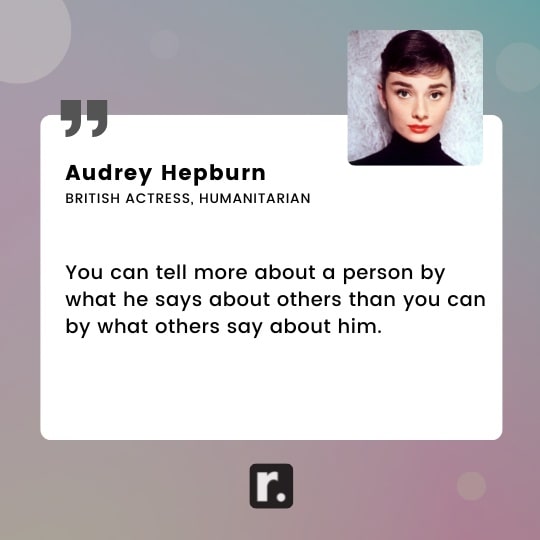 Audrey Hepburn Quotes on Beauty
Audrey Hepburn was known not only for her exceptional talent and elegance, but also for her unique perspective on beauty. Her inspiring quotes about beauty offer a glimpse into her personal philosophy on what makes a person truly beautiful, both inside and out.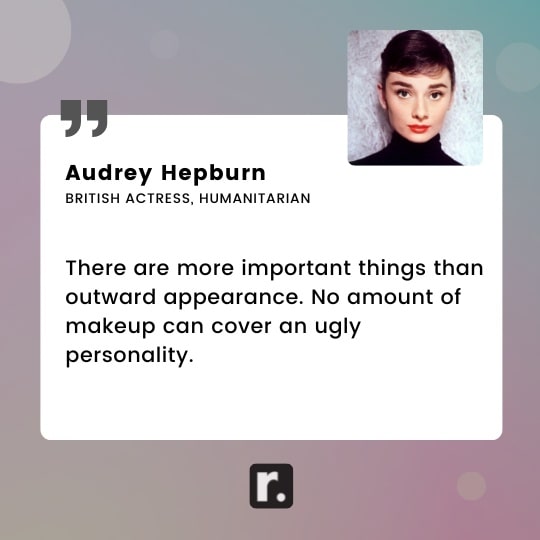 Audrey Hepburn Quotes about Life
Audrey Hepburn was not only a talented actress and style icon but also a wise person who had a unique perspective on life. Audrey Hepburn quotes about life reflect her philosophy on what really matters, and offer guidance and inspiration to those seeking to live their best lives.
In this section, we will delve into some of Audrey Hepburn's most memorable quotes about life, exploring their deeper meanings and relevance in today's world.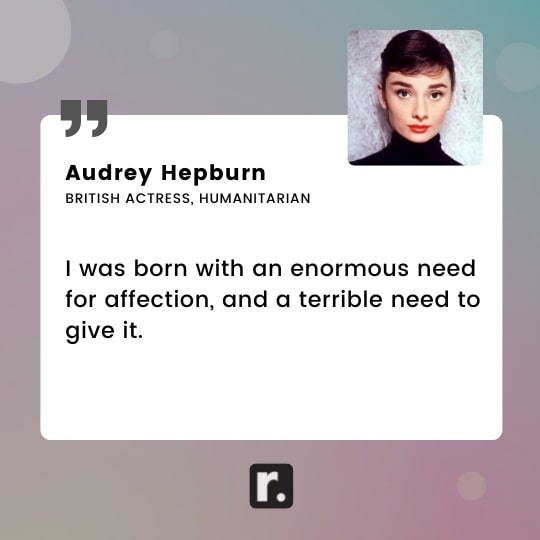 Wrapping up:
Here are all the quotes by Audrey Hepburn we have collected, offering a glimpse into the heart and mind of one of the most beloved actresses and humanitarians of all time.
Audrey's unique perspective on life and beauty has reminded us of the importance of compassion, poise, and optimism in our daily lives. Through her quotes, she has provided guidance and encouragement to pursue our passions and live to the fullest.