Bertrand Russell was a fascinating figure whose work and thought spanned many different subjects. What strikes me most about Russell's writing is his ability to condense great truths into a few lines. He was gifted at producing humorous, intelligent, and occasionally controversial remarks.
Read More: 65+ Albert Schweitzer Quotes To Help You Know Purpose Of Life
In this article, I'll share some of the most famous quotes by Bertrand Russell and discuss their significance and relevance. I hope these quotes inspire you to think thoroughly about important topics and examine different views, whether you're new to his writing or a lifelong fan. Join me on this thought-provoking trip through Bertrand Russell's thoughts!
Who is Bertrand Russell
Bertrand Russell was a British philosopher, logician, and mathematician who lived from 1872 until 1970. Russell made major contributions to several subjects, including philosophy, mathematics, logic, epistemology, and political activity.
Here are some interesting facts about Russell:
Russell is best known for his work on logic and mathematical foundations. His book "Principia Mathematica" which he co-wrote with Alfred North Whitehead.
Russell was also a well-known social and political analyst who spent his life working for peace, nuclear disarmament, and human rights.
"The Problems of Philosophy" "A History of Western Philosophy" and "Why I Am Not a Christian" are among Russell's most recognized books.
In 1950, Russell received the Nobel Prize in Literature for his work on human freedom and the power of thought.
Russell was known throughout his life for his humor, clarity of mind, and willingness to challenge accepted views and ideas.
Some Famous Bertrand Russell Quotes
1. The whole problem with the world is that fools and fanatics are always so certain of themselves, and wiser people so full of doubts.
This quote highlights Russell's skepticism about the certainty that many people have about their beliefs. He believed that it is important to question our assumptions and be open to changing our minds based on new evidence.
2. The good life is one inspired by love and guided by knowledge.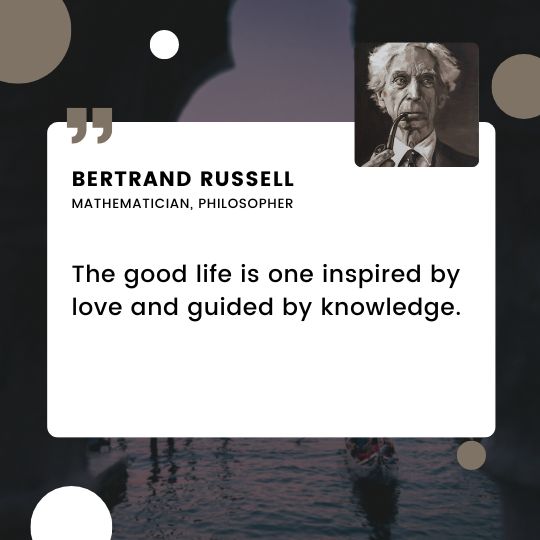 This quote expresses Russell's belief that love and knowledge are both necessary for a fulfilling life. He believed that love provides the motivation for living well, while knowledge provides guidance.
3. To be without some of the things you want is an indispensable part of happiness.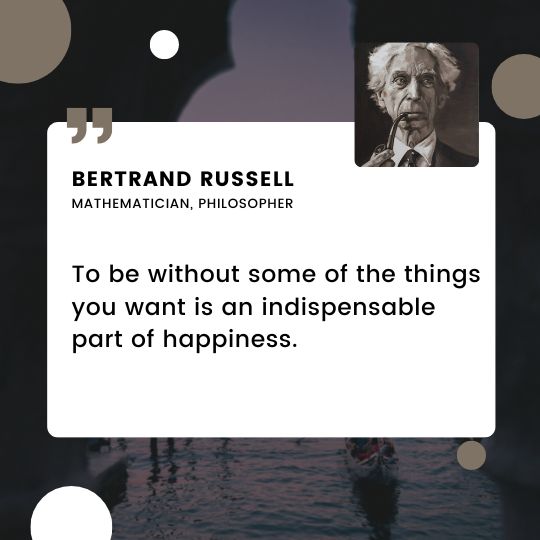 Russell believed that happiness does not come from having everything we want, but from learning to be content with what we have. He believed that learning to be satisfied with less is a key to happiness.
4. The greatest challenge to any thinker is stating the problem in a way that will allow a solution.
Russell believed that the ability to state a problem clearly is a prerequisite for solving it. He emphasized the importance of clear thinking and precise language in philosophical inquiry.
5. The fundamental concept in social science is Power, in the same sense in which Energy is the fundamental concept in physics.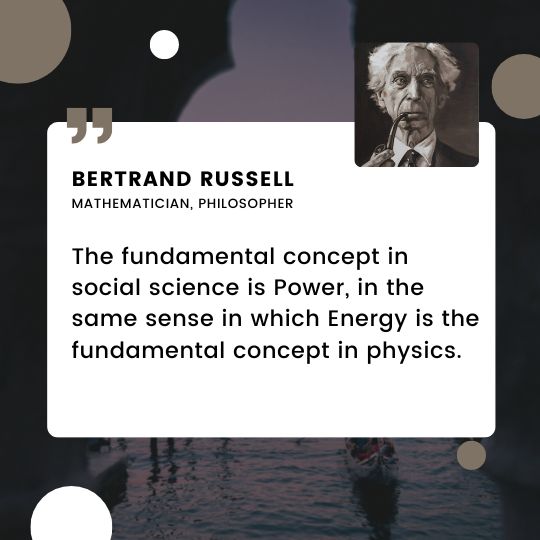 Russell believed that power is the central concept in social science, just as energy is the central concept in physics. He believed that understanding power relationships is essential for understanding social dynamics.
6. The whole point of philosophy is to start with something so simple as not to seem worth stating, and to end with something so paradoxical that no one will believe it.
One of my favorite quotes from Bertrand Russell. This quote expresses Russell's belief in the power of philosophical inquiry to reveal truths that are counterintuitive and paradoxical.
He believed that philosophy should challenge our assumptions and push us to think in new and unexpected ways.
7. Men are born ignorant, not stupid; they are made stupid by education.
This quote reflects Russell's belief that education can sometimes stifle creativity and independent thinking. He believed that education should encourage curiosity and a willingness to question received wisdom.
8. Patriotism is the willingness to kill and be killed for trivial reasons.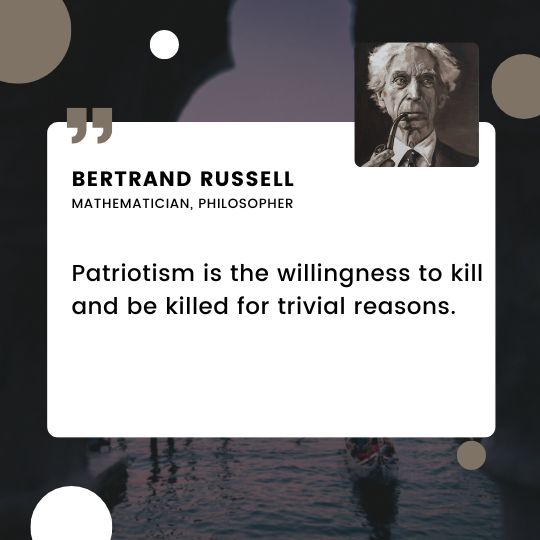 This provocative quote expresses Russell's skepticism about patriotism and nationalism. He believed that the willingness to fight and die for one's country is often based on trivial or misguided reasons.
9. Of all the forms of caution, caution in love is perhaps the most fatal to true happiness.
Russell believed that love requires a willingness to take risks and be vulnerable. He believed that caution and fear can prevent us from experiencing the fullness of love.
10. The time you enjoy wasting is not wasted time.
This quote reflects Russell's belief that leisure time is essential for happiness and creativity. He believed that the pursuit of pleasure and the enjoyment of life's simple pleasures are important goals in themselves.
Memorable Quotes by Bertrand Russell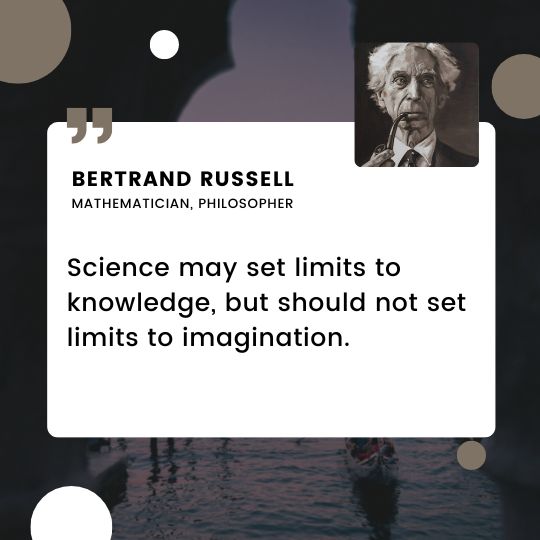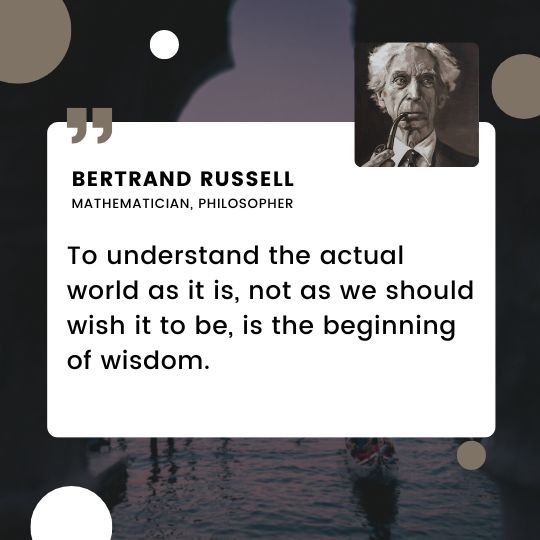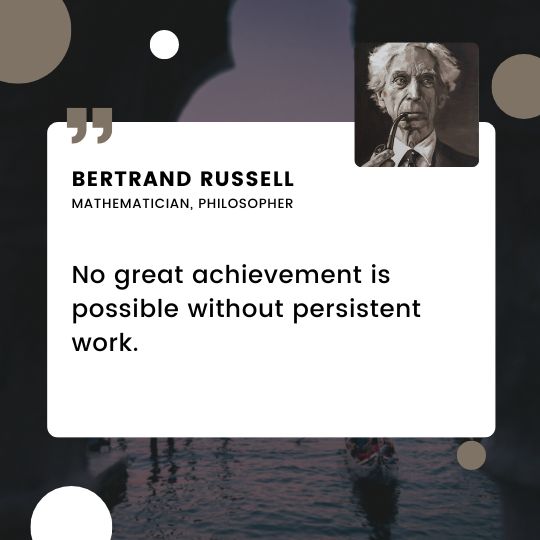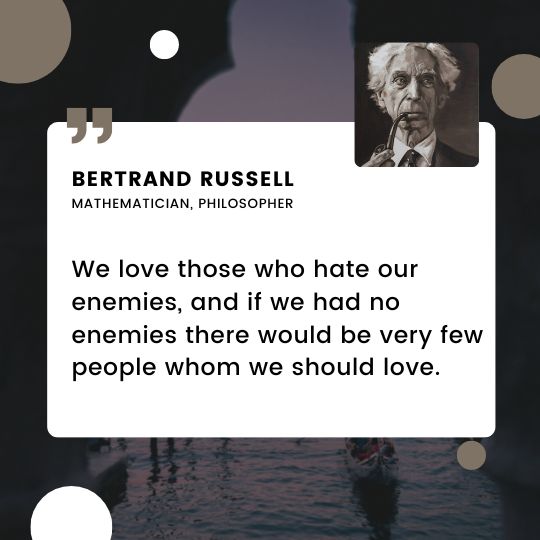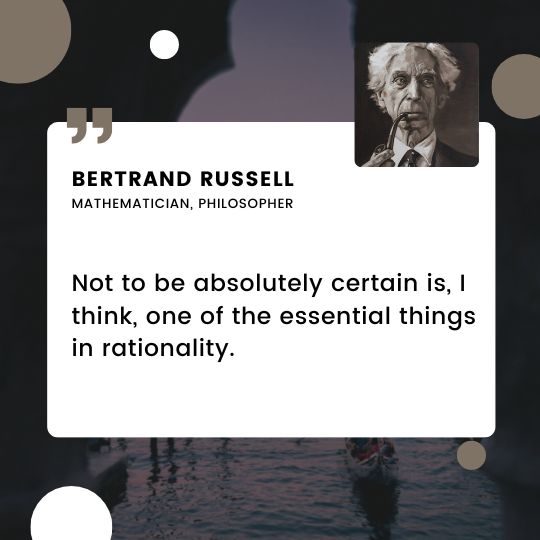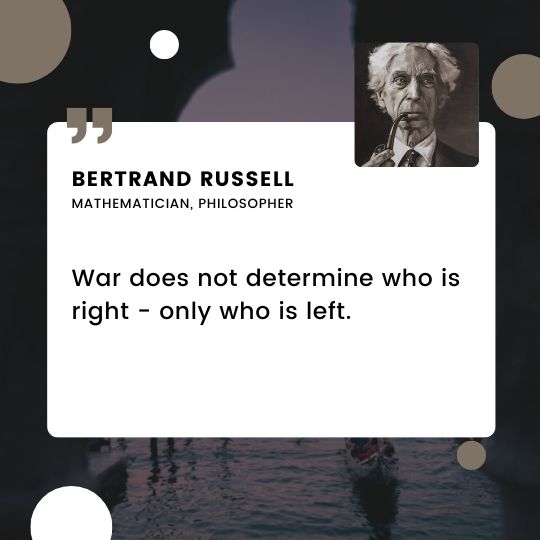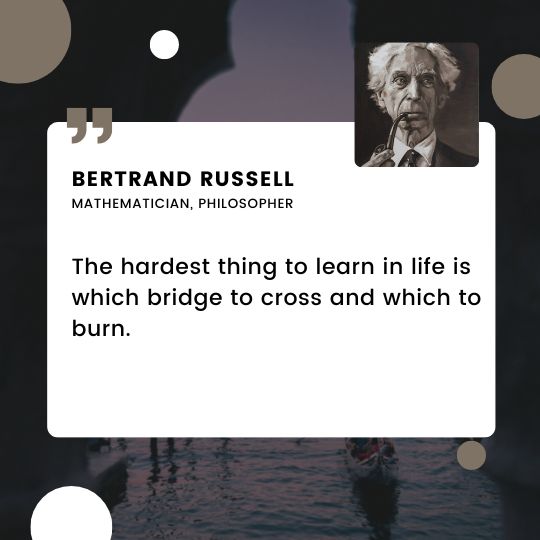 Wrapping up:
So here are some quotes I've collected from the great 20th-century philosopher Bertrand Russell. These phrases offer insights into a wide range of topics, from the nature of knowledge and truth to the perils of nationalism and war.
Though he lived more than half a century ago, Russell's ideas continue to resonate with us today, reminding us of the importance of clear thinking, love, and a commitment to the pursuit of truth.
In a world that often feels chaotic and uncertain, we can all benefit from Russell's wisdom and guidance. You can also check Bertrand Russell's facts.