These good life quotes can be motivational for you in helping find positivity and inspiration to start your day and find ways to deal with daily challenges in your life.
Life is an amazing adventure we all share, filled with ups, downs, and everything in between. Sometimes, we need a little guidance and inspiration to make the most of this journey.
In this article, we'll explore "Good Life Quotes" that are like friendly reminders of how to live well. Think of them as little nuggets of wisdom that can help you find joy, clarity, and meaning in your everyday experiences.
Read more: 6 Must-Read Books for Communication Skills And Sharpen Social Skills
If you are searching for some motivational words to start a good life then these quotes on good life will surely help you and inspire you to lead a good life and live your life to the fullest.
Inspirational Quotes About Good Life
It's human excellence that makes a human being beautiful. If you develop qualities such as justice, courage, self-discipline, tranquility, kindness, or patience you will be living a great life.
Feeling lost, crazy, and desperate belongs to a good life as much as optimism, certainty, and reason.― Alain de Botton
So long as the memory of certain beloved friends lives in my heart, I shall say that life is good. — Helen Keller
That it will never come again is what makes life so sweet.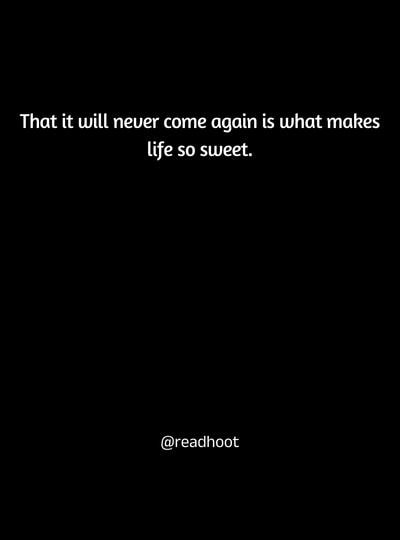 I believe we are here on the planet Earth to live, grow up and do what we can to make this world a better place for all people to enjoy freedom.
To live a good life: We have the potential for it. If we can learn to be indifferent to what makes no difference.
Life comes from the earth and life returns to the earth.
There are better people in the world, do not let the worst do the worst to you, you deserve the best in life.
Convince yourself every day that you are worthy of a good life. Let go of stress, breathe. Stay positive, all is well.
We are here to add what we can to life, not to get what we can from life.
Find your focus by seeking all that is good in your life.
Don't behave as if you are destined to live forever. What's fated hangs over you. As long as you live and while you can, become good now. – Marcus Aurelius
When you make good choices, you create a beautiful life.
It's time to have and enjoy magical moments in life, reposition yourself so the magic happens.
A good character is the only guarantee of everlasting, carefree happiness.
I have a very good life – I'm lucky enough not to be deprived.
Be happy for this moment. This moment is your life.
All you need in this life is ignorance and confidence; then success is sure.
The art of life is to know how to enjoy a little and to endure very much.
If you change the way you look at things, the things you look at change.
A man who dares to waste one hour of time has not discovered the value of life.
I have very strong feelings about how you lead your life. You always look ahead, you never look back.
Life's good when it's lived for oneself; it's great when lived for others. The true means of happiness is to lose your mind by thinking for others! ― Israelmore Ayivor
Begin at once to live, and count each separate day as a separate life.
For the great doesn't happen through impulse alone, and is a succession of little things that are brought together.
A sensual lifestyle is a lifestyle you can have an affair with for the rest of your life.
Life isn't about finding yourself. Life is about creating yourself.
Never lose sight of the fact that the most important yardstick to your success is how you treat other people.
The best reason for adopting a philosophy of life, is that if we lack one, there is a danger that we will mislive.
Perfection is not attainable. But if we chase perfection we can catch excellence.
The act of slowing down filters and simplifies so we can prioritize.
All your life, you will be faced with a choice. You can choose love or hate…I choose love.
You have succeeded in life when all you really want is only what you really need.
I live my life with total devotion to the limitless expansion of my sensuality.
If my life is going to mean anything, I have to live it myself.
For a good life, stay in good company. Negative people awaken negative parts inside of us.
Live the Life of Your Dreams: Be brave enough to live the life of your dreams according to your vision and purpose instead of the expectations and opinions of others. ― Roy T. Bennett
To do the useful thing, to say the courageous thing, to contemplate the beautiful thing: that is enough for one man's life.
Good food doesn't mean fancy food, a good friend doesn't mean a fancy friend, and the good life doesn't mean fancy life.
The good life is a process, not a state of being. It is a direction, not a destination. – Carl Rogers
Who would call a day spent reading a good day? But a life spent reading—that is a good life.
Feeling lost, crazy, and desperate belongs to a good life as much as optimism, certainty, and reason.
If you don't like the road you're walking, start paving another one.
When I hear somebody sigh, 'Life is hard,' I am always tempted to ask, 'Compared to what?
Some people are so much sunlight to the square inch. I am still bathing in the cheer he radiated.
Convince yourself every day that you are worthy of a good life. Let go of stress, breathe. Stay positive, all is well.
Life comes from physical survival, but the good life comes from what we care about. – Rollo May
If I'd done all the things I was supposed to have done, I'd be really tired.
We don't owe each other sacrifice, we owe each other the promise of ecstasy.
Life is good when we think it's good. Life is bad when we don't think.
The two most important days in your life are the day you are born and the day you find out why.
It's one thing to read quotes about living a good life, it's another to implement these quotes as we go about designing our lives.
Life is a song – sing it. Life is a game – play it. Life is a challenge – meet it. Life is a dream – realize it. Life is a sacrifice – offer it. Life is love – enjoy.
Life is not a list of tasks but moments of experiences.
Good friends, good books, and a sleepy conscience: this is the ideal life.
Don't bother just to be better than your contemporaries or predecessors. Try to be better than yourself.
Each person must live their life as a model for others.
You have brains in your head. You have feet in your shoes. You can steer yourself in any direction you choose.
Accept yourself, love yourself, and keep moving forward. If you want to fly, you have to give up what weighs you down.
Don't waste your time in anger, regrets, worries, and grudges. Life is too short to be unhappy.
Life is like a coin. You can spend it any way you wish, but you only spend it once.
Life is not important except for the impact it has on other lives.
Life isn't a matter of milestones, but of moments.
Don't judge each day by the harvest you reap but by the seeds that you plant.
In three words I can sum up everything I've learned about life: it goes on.
If my life is going to mean anything, I have to live it myself.
Life is like riding a bicycle. To keep your balance, you must keep moving.
Don't take life too seriously. Punch it in the face when it needs a good hit. Laugh at it.
The biggest adventure you can take is to live the life of your dreams.
Life is made up of sobs, sniffles, and smiles, with sniffles predominating.
The most beautiful things in the world cannot be seen or even touched. They must be felt with the heart.
If life were predictable it would cease to be life and be without flavor.
Life has no limitations, except the ones you make.
I choose to make the rest of my life the best of my life.
You only live once, but if you do it right, once is enough.
All life is an experiment. The more experiments you make, the better.
The big lesson in life, baby, is never to be scared of anyone or anything.
Life can only be understood backward, but it must be lived forwards.
The best proof that a person lived a good life is his peaceful face in his old age!
My mission in life is not merely to survive, but to thrive; and to do so with some passion, some compassion, some humor, and some style.
Life just doesn't hand you things. You have to get out there and make things happen. that's the exciting part.
What you do makes a difference, and you have to decide what kind of difference you want to make.
Life shrinks or expands in proportion to one's courage.
It takes a deep commitment to change and an even deeper commitment to grow.
I've been around a long time, and life still has a whole lot of surprises for me.
It is better to fail in originality than to succeed in imitation.
The good life is not built on a foundation of ease…it's the hard times that give us a rock-solid foundation.
He who has a why to live for can bear almost any how.
Being a successful person is not necessarily defined by what you have achieved, but by what you have overcome.
The price of anything is the amount of life you exchange for it.
All the art of living lies in a fine mingling of letting go and holding on.
You've got to get up every morning with determination if you're going to go to bed with satisfaction.
You have two choices in life; you can either like what you do or dislike what you do. I have chosen to like what I do.
However difficult life may seem, there is always something you can do and succeed at.
Life imposes things on you that you can't control, but you still have the choice of how you're going to live through this.
The excursion is the same when you go looking for your sorrow as when you go looking for your joy.
Life's under no obligation to give us what we expect.
The most important thing is to enjoy your life—to be happy—it's all that matters.
Life is to be lived, not controlled; and humanity is won by continuing to play in face of certain defeat.
That it will never come again is what makes life sweet.
Inspirational Short Good Life Quotes
If there is no struggle, there is no progress.
Life is to be enjoyed, not endured.
Life is short, but it is wide. This too shall pass.
Live out of your imagination, not your history.
The time is always right to do what is right.
Believe you can and you're halfway there.
Where there is love there is life.
The unexamined life is not worth living.
Live for each second without hesitation.
A good life is a collection of happy moments.
Being happy never goes out of style.
Life is either a great adventure or nothing.