Sex is the word that makes you feel horny, excited, lusty, and so on…Sex is the basic need of all human beings who want to spend their life happily with their partners. Some people have various desires for sex to be done. There are various types of sex you can see nowadays. But some of the people are too much shy to express their desires for sex to their partners.
Here, we made the best collection of sex quotes that you can share confidently your desires, thoughts, and love with your loved ones. So guys do not hesitate to make your love more excited.
---
I want to capture you like this and freeze it forever.
---
---
Your lips are like wine, and I want to get drunk.
---
Let's make out, have sex, cuddle, and have a deep talk. Then let's have sex again, go out to eat, then go back home, watch a movie, and have sex again.
---
Yes, I have a dirty Mind and You are on It.
---
I can't taste my lips could you do it for me
---
I love making you hard and I love it when you make me wet.
---
I love the way your body shakes when I make you cum.
---
---
I don't know the question, but sex is definitely the answer.- Woody Allen
---
Good sex is like a good bridge. If you don't have a good partner, you'd better have a good hand.
---
Sex is… perfectly natural. It's something that's pleasurable. It's enjoyable and it enhances a relationship.
---
I feel quite enthusiastic about rough sex.  It's so sexy.
---
Your clothes would look nice on my bedroom floor.
---
I just want you to be happy. And naked.
---
Kissing burns 6.4 calories a minute. Wanna workout?
---
---
I am so wet. F**k!
---
No woman gets an orgasm from shining the kitchen floor.
---
Sex is kicking death in the ass while singing.
---
I want to feel your lips everywhere. Especially down there.
---
Kiss my neck. Bite me. Pull my hair. Trace my spine. Hold me down. Use your tongue. Make me moan. Don't stop till I'm shaking.
---
I wanna do bad things with you.
---
Your flavor is so delicious.
---
I want more. More of your love. More of your body. More of you.
---
---
Tease me until I'm begging for it.
---
You make me smile… and also super horny, but that's not the point.
---
It's not that I'm horny all the time. It's just that you're always sexy.
---
I love taking a shower. Especially with you.
---
Be classy, with a bit of crazy and a lot of naughty.
---
Roses are red, Violets are blue, I'm using my hand but I'm thinking of you.
---
Ten men waiting for me at the door? Send one of them home. I'm tired.
---
When you're having sex and he puts his hand around your neck and pulls you into him.
---
---
When the sex is so hard and good that it feels like you're about to go through the mattress.
---
Sex is more than an act of pleasure, it's the ability to be able to feel so close to a person, so connected, so comfortable that it's almost breathtaking to the point you feel you can't take it. And at this moment you're a part of them.
---
I am just another female faking orgasms to make a man not feel inadequate.
---
Love is an ice cream sundae, with all the marvelous coverings. Making love is the cherry on top.
---
I need to be touched. By you…
---
Good night and if you dream of me, remember I like it rough.
---
Your pants bother me. Take them off.
---
Let's make a pact. To always f*ck each other good and make each other smile.
---
---
Let's face it, sex makes life a lot more fun.
---
Want to come over and watch porn on my flat screen mirror?
---
Your face would look better between my legs.
---
Fu*k babe… I love feeling your nails digging into my skin.
---
It's so fucking sexy when you only wear jeans and nothing else.
---
Anyone who is observant, who discovers the person they have always dreamed of, knows that sexual energy comes into play before sex even takes place. The greatest pleasure isn't sex, but the passion with which it is practiced. When the passion is intense, then sex joins in to complete the dance, but it is never the principal aim.
---
It isn't premarital sex if you have no intention of getting married.
---
---
To have her here in bed with me, breathing on me, her hair in my mouth. I count that something of a miracle.
---
A good licking? Right now? Yes, please.
---
Gotta love a #cuddle that turns into #sex that turns into a cuddle.
---
Monday is the perfect day to make up for the sex you did not have last week.
---
I give you permission to wake me up if you get horny.
---
When she's had a rough day, give her a rough night
---
Everything that truly makes us happy is quite simple – love, sex, and food!
---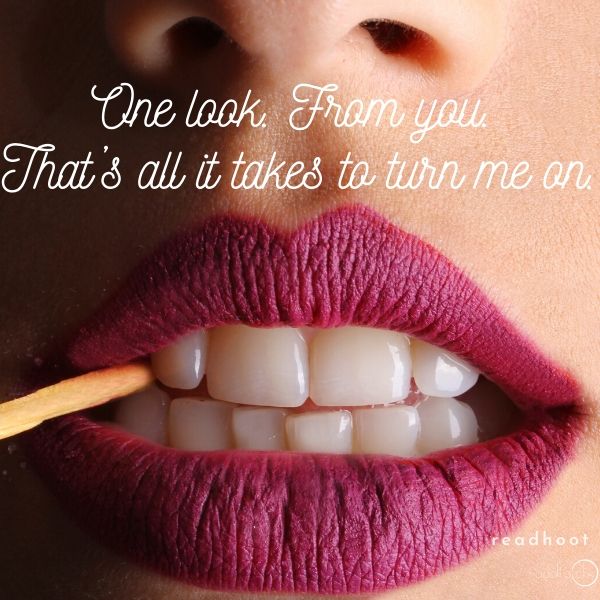 ---
Women might be able to fake orgasms, but men can fake a whole relationship.
---
Physics is like having intercourse: sure, it may give some practical results, but that's not why we do it.
---
That lovely surprise when he hugs you and you can feel his boner.
---
Sunday is the perfect day to stay home, take a few #naps, and have a lot of SEX!
---
One look. From you. That's all it takes to turn me on.
---
I want you naked. On the bed. Right now.
---
I never understood why anyone would have sex on the floor. Until I was with you and I realized: you don't realize you're on the floor.
---
An orgasm a day keeps the doctor away.
---
When we fuck so hard that we're both covered in scratches and bite marks
---
When we fuck each other with absolutely no mercy
---
Take her like it's the first time and the last time every single time.
---
---
Save water. Shower together.
---
When we fuck for hours, making each other cum again and again.
---
I wouldn't mind a weekend full of hot and dirty sex.
---
You are as sexy as fuck.
---
I love it when you lie in my bed completely naked.
---
Any marriage is hard work. But what I always say is, Keep the fights clean and the intimacy dirty.
---
I'll come and make love to you at five o'clock. If I'm late start without me.
---
The only sea I saw was the seesaw sea With you riding on it. Lie down, lie easy. Let me shipwreck in your thighs.
---
Respect me. Adore me. Dominate me.
---
---
Kiss me a lot. Touch me all over. And lick me in my special spot.
---
I just want to be with you. Hug you. Kiss you all over. Grab your ass and do naughty things.
---
Relationships are always better when you have a lot of sex.
---
When we kiss passionately. I absolutely love it when we do that.
---
Take your time to undress each other, and to explore each other with a lot of licks, kisses, and strokes.
---
Thinking about you makes me so fucking horny
---
Blood rushed to the regions of my body that I associated with naughtiness, and I was powerless to stop it.
---
Do you want me to ride you like a rented mule, or do you prefer to be Mr. Missionary Position? I'm fine with wither, so it doesn't matter to me.
---
I had a dream I named my boat after you. I love to raise your mast. ― Amanda Mosher Give me the D. You know you want to.
---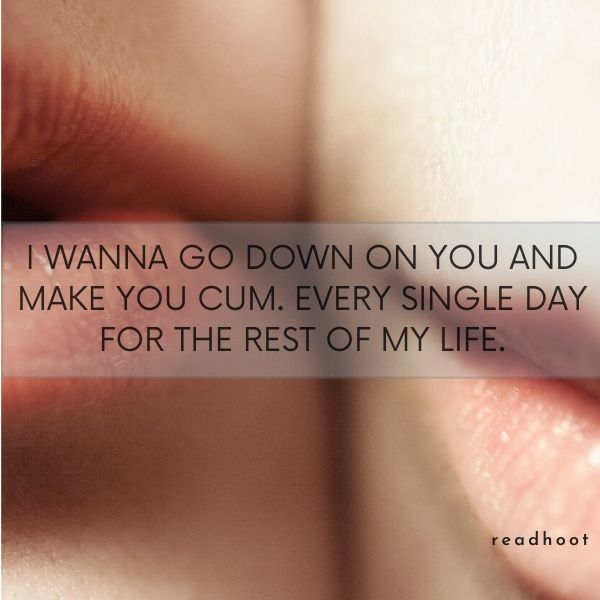 ---
Give me a bit of rough sex mixed with some sexy, slow, and sweet lovemaking.
---
I promise to always be by your side. Or under you. Or on top.
---
A little roughing in the bedroom is a lot of fun.
---
Making love with strangers is how you get hurt.
---
I love sex… It should be animalistic, it should be sadistic, it should at times be masochistic… There are a few rules and moral conventions.
---
That is your orgasm talking, your really not in love with me.
---
Make her laugh and feel happy. Love her and be there for her. And make sure you fulfill all her naughty fantasies.
---
I think you look sexy when you touch yourself.
---
---
Be with someone who inspires you to be naughty.
---
Gotta love when she takes control and dominates you in bed.
---
Tied up, spanked, and fucked? Yes, please.
---
When the sex is so good that you're sore for days.
---
Others have sex in the kitchen. I eat in bed.
---
Let's fuck like the world is ending tomorrow.
---
Sundays should be spent in bed. Fucking the entire day.
---
Kiss her pussy goodnight. Every night.
---
Stop undressing me with your eyes! Use your teeth.
---
You can stay, but your clothes must go.
---
Fucking hard and talking dirty is the perfect combination.
---
I wanna go down on you and make you cum. Every single day for the rest of my life.
---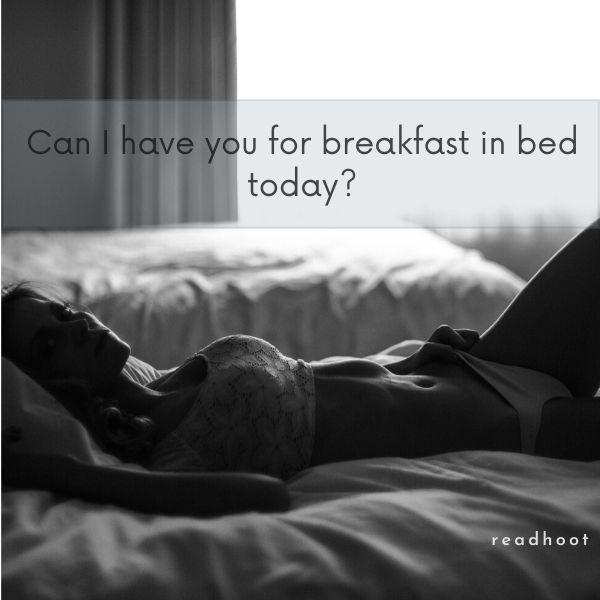 ---
Let's have a who's better in bed contest. I'm hoping to be a sore loser.
---
It's been a long day. I need one of those hugs that turn into sex.
---
I need a drink and the kind of sex that makes me feel fucking fabulous.
---
Being good in bed means caring about your partner and making sure your partner is COMPLETELY satisfied.
---
Being fucked. Hard. Is there anything sexier?
---
Some of the best moments in life are the ones you can't tell anyone about
---
I love it when you eat me out for breakfast.
---
Can I have you for breakfast in bed today?
---
When your nails claw into my back as I fuck you hard.
---
Kissing is sensual and romantic – so kiss me while you fuck me.
---
Love is when you sit beside someone doing nothing and getting horny as f*ck.
---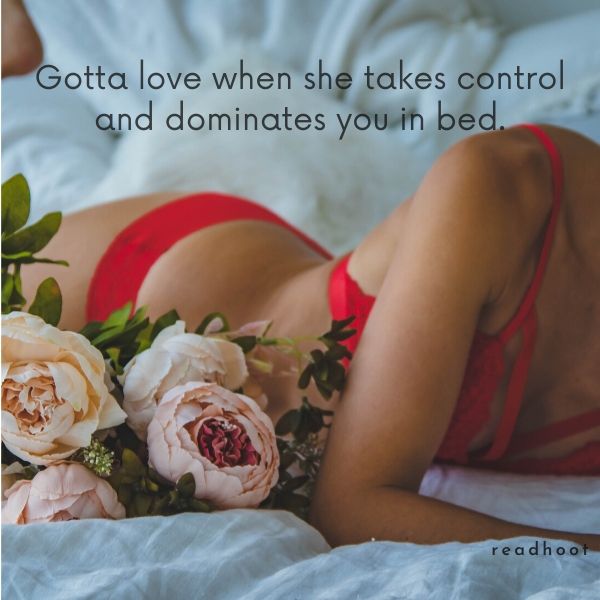 ---
When it gets kinda rough and you're loving it.
---
Be naked when I get home.
---
I'm a lover, not a fighter. Unless you like it rough
---
Sometimes a bit of rough makes it a lot more exciting
---
Confidence in bed is as sexy as hell.
---
Foreplay. Don't rush it. Enjoy it.
---
I want to taste me on your fingers.
---
When you push it in. A little deeper. Harder.
---
A good day starts with a little bit of sex and a lot of coffee.
---
'I love fucking you.' I love hearing you say that.
---