Have you ever looked around your home and felt overwhelmed by the clutter? If so, you're not alone. Many of us struggle with keeping our living spaces tidy and organized. That's where Marie Kondo comes in.
Marie Kondo, a consultant and author, is well-known for her easy and effective method of organizing. She believes that it's crucial to have things around us that make us happy and reflect our values. So, if something doesn't bring joy, it's time to let it go.
In this article, we'll take a closer look at some of the most inspiring Marie Kondo quotes and how they can help you declutter your home and your mind.
Who is Marie Kondo
Marie Kondo is a Japanese organizing consultant, author, and television personality. She is best known for her KonMari method of tidying up, which emphasizes decluttering and organizing one's home by keeping only items that spark joy. Her book "The Life-Changing Magic of Tidying Up" has sold millions of copies worldwide and has been translated into multiple languages.
Here are some interesting facts about Marie Kondo:
Marie Kondo was born on October 9, 1984, in Tokyo, Japan.
Kondo worked as a Shinto shrine maiden, or miko, for five years before starting her organizing business.
She has also starred in a Netflix series called "Tidying Up with Marie Kondo," which features her helping families organize and declutter their homes using the KonMari method.
She has been featured in numerous publications, including The New York Times, The Wall Street Journal, and Time magazine.
She is a minimalist and keeps her own possessions to a minimum, focusing on items that bring her joy and have a practical purpose.
Inspiring Marie Kondo Quotes to Help You Spark Joy
Famous Marie Kondo Quotes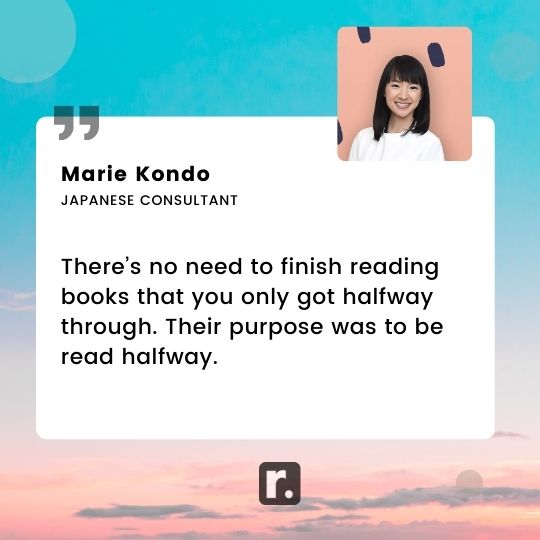 Did you enjoy these Marie Kondo quotes?
Did you enjoy these Marie Kondo quotes? If they resonated with you, why not share them with your friends and family?
Kondo's message is all about finding happiness and meaning in our belongings, which can help us live more purposeful lives. It's not just about cleaning up your house, but creating a space that truly reflects who you are and what you value.
So whether you're on a big cleaning kick or just need a little inspiration, Kondo's words are bound to make you feel better. Thanks for reading, and happy tidying!