Laughter is said to be the best medicine and for decades. He was known for his clever jokes and funny one-liners, which have influenced many other comedians and still make people laugh today.
Whether you're a fan of classic stand-up comedy or simply looking for a good laugh, Henny Youngman quotes are sure to tickle your funny bone.
In this article, we'll take a closer look at the life and legacy of the legendary comedian, and explore some of his most famous and timeless quotes. So sit back, relax, and get ready to laugh out loud as we delve into the world of Henny Youngman.
Read Also:
Who is Henny Youngman
Henny Youngman was a famous American comedian known for his one-liner jokes. He was best known for his quick wit and clever puns, and his catchphrase "Take my wife… please!" became a cultural touchstone. Youngman's influence on the world of comedy is still felt today, and his legacy continues to inspire new generations of comedians.
Here are some lesser-known facts about Henny Youngman:
Henny Youngman's real name was Henry Yungman. He changed it to Henny Youngman when he started performing in show business.
Youngman was a trained musician and played the violin. He often incorporated music into his comedy routines.
He was a prolific writer of jokes and wrote over 200,000 during his lifetime.
In addition to his comedy career, Youngman also appeared in several films, including the classic comedy "Goodfellas."
He was a frequent guest on "The Ed Sullivan Show" and made over 70 appearances on the program.
In 1986, Youngman was awarded a star on the Hollywood Walk of Fame for his contributions to the entertainment industry.
Most Famous Henny Youngman Quotes
Humorous Quotes by Henny Youngman
Best Henny Youngman Quotes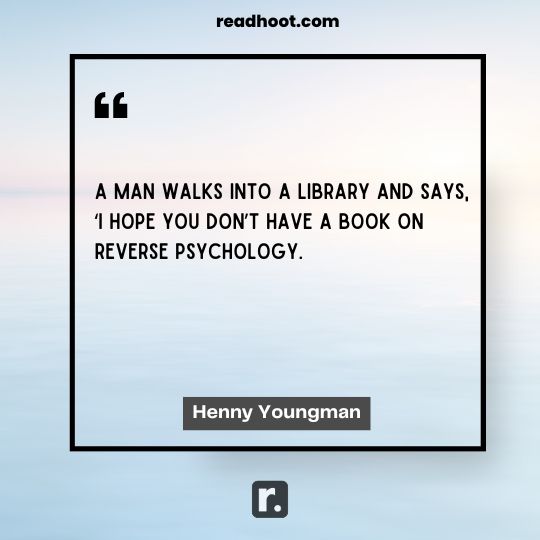 Some Witty Henny Youngman Quotes
My best friend ran away with my wife, and let me tell you, I miss him.
My brother-in-law had to give up his last job because of illness. His boss became sick of him.
A doctor gave a man six months to live. The man couldn't pay his bill, so he gave him another six months.
The most effective way to remember your wife's birthday is to forget it once… Do you know what I did before I married? Anything I wanted to.
In high school football, the coach kept me on the bench all year. On the last game of the season, the crowd was yelling, We want Youngman! We want Youngman! The coach says, Youngman – go see what they want!
My history teacher was so old, he taught from memory.
Do you know what it means to come home at night to a woman who'll give you a little love, a little affection, a little tenderness? It means you're in the wrong house, that's what it means.
A Polish man had a bandage on each ear. What happened? "I was ironing, and the phone rang!" "What about the other ear?" "Had to call the doctor!"
Getting on a plane, I told the ticket lady, "Send one of my bags to New York, send one to Los Angeles, and send one to Miami." She said, "We can't do that!" I told her, "You did it last week!"
A Polish terrorist was sent to blow up a car. He burned his mouth on the exhaust pipe!
When I told my doctor I couldn't afford an operation, he offered to touch up my X-rays.
My wife is the sweetest, most tolerant, most beautiful woman in the world. This is a paid political announcement.
I wanted to do something nice so I bought my mother-in-law a chair. Now they won't let me plug it in.
My wife and I went back to the hotel where we spent our wedding night. Only this time, I stayed in the bathroom and cried.
A doctor says to a man, "You want to improve your love life? You need to get some exercise. Run ten miles a day." Two weeks later, the man called the doctor. The doctor says, "How is your love life since you have been running?" "I don't know, I'm 140 miles away!"
My other brother-in-law died. He was a karate expert, then joined the army. The first time he saluted, he killed himself.
The Doctor says, "You'll live to be 60!" "I AM 60!" "See, what did I tell you?"
The usual way – a little wine, a little dinner.
We were married for better or worse. I couldn't have done better, and she couldn't have done worse.
When I go to a restaurant I always ask the manager, "Give me a table near a waiter.
I wish my brother would learn a trade, so I would know what kind of work he's out of.
Last night I ordered a whole meal in French. Even the waiter was amazed – it was a Chinese restaurant!
I miss my wife's cooking – as often as I can.
I've got two wonderful children – and two out of five isn't too bad.
A Jewish woman had two chickens. One got sick, so the woman made chicken soup out of the other one to help the sick one get well.
All my wife does is shop – once she was sick for a week, and three stores went under.
A Polish man in a helicopter. Goes up to 800 feet. Down it comes! What happened? "It got chilly up there, so I turned off the fan!"
I had plastic surgery last week. I cut up my credit cards.
A doctor has a stethoscope up to a man's chest. The man asks, "Doc, how do I stand?" The doctor says, "That's what puzzles me!"
She ran after the garbage truck, yelling, "Am I too late for the garbage?" "No, jump in!"
What are your thoughts on Henny Youngman Quotes?
We hope you've enjoyed this collection of Henny Youngman's best one-liners and witty quotes.
Which one was your favorite? Let us know in the comments below, and don't forget to share these hilarious quotes with your friends and family to brighten their day with some good humor.