Ayn Rand is a figure who has always fascinated me. Her ideas and philosophy have been both praised and criticized. Rand, as a writer and philosopher, emphasized individuality, reason, and laissez-faire capitalism, and she felt that the pursuit of one's own self-interest is the greatest moral purpose.
In this article, I'll be exploring some of Ayn Rand's most thought-provoking quotes and analyzing what they reveal about her philosophy and worldview. By delving into these quotes, I hope to gain a deeper understanding of Rand's ideas and the impact they have had on our society.
Who is Ayn Rand
Ayn Rand was a Russian-American writer and philosopher best known for her books "The Fountainhead" and "Atlas Shrugged," as well as her Objectivist philosophy. Rand's ideas and philosophy have influenced political and economic debates, especially in the United States, where she has received both praise and criticism.
Here are some interesting facts about Rand:
Ayn Rand was born Alisa Zinovyevna Rosenbaum in St. Petersburg, Russia in 1905. She changed her name to Ayn Rand after relocating to the United States in 1926.
Rand was an atheist and a critic of religion. She believed that religion was a form of irrationality that hindered human progress and freedom.
Rand was married to actor and artist Frank O'Connor. They were married until O'Connor died in 1979.
Rand was a firm advocate of individual rights and opposed government meddling in the economy. She believed laissez-faire capitalism was the best system for achieving individual freedom and prosperity.
Ayn Rand died on March 6, 1982, in New York City, USA, at the age of 77.
Inspiring Ayn Rand Quotes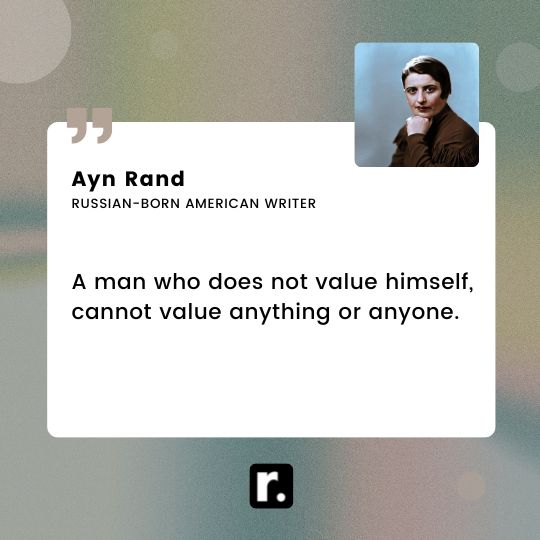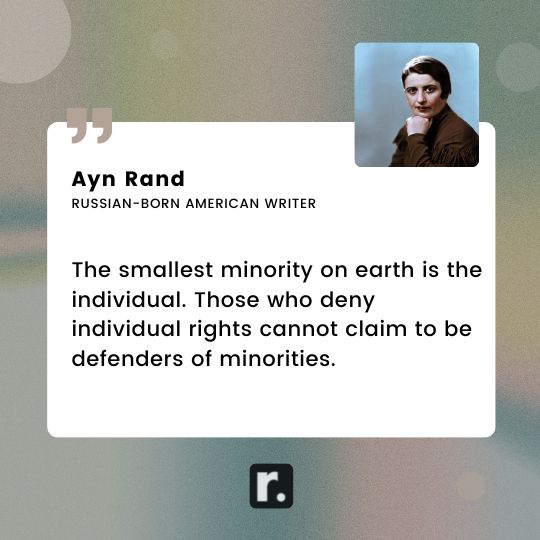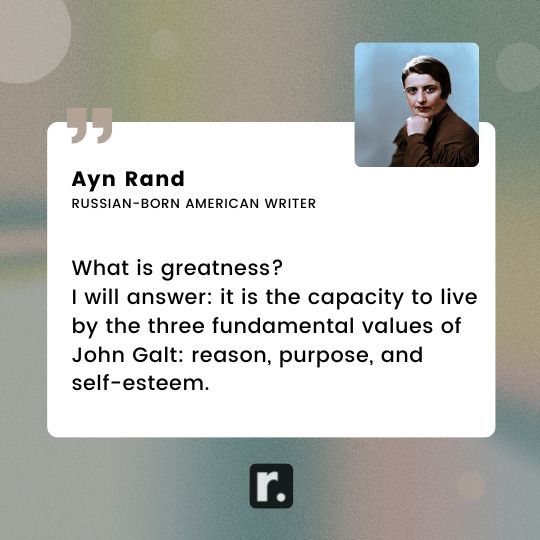 Famous Ayn Rand Quotes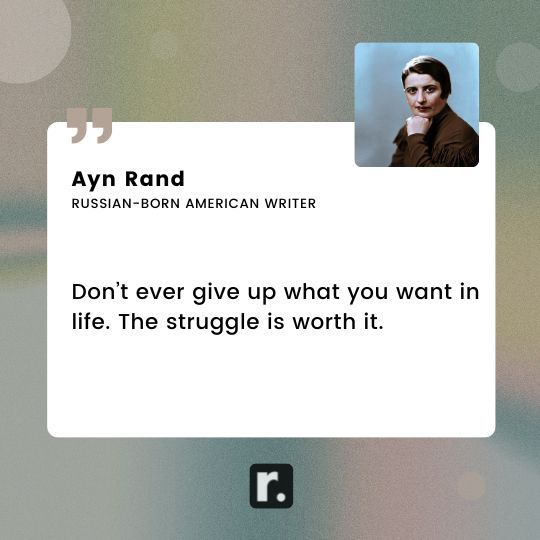 The Fountainhead Quotes by Ayn Rand
This classic novel by Ayn Rand is widely regarded as a masterpiece that explores the relationship between individualism and society through architecture.
The novel is home to several memorable quotes that embody Rand's philosophy of Objectivism. Her views on the role of the individual in a society that values conformity above all else are reflected in these quotes. Let's explore some of the most significant quotes from The Fountainhead.
Final Thoughts:
After exploring the quotes by Ayn Rand, it's clear that Ayn Rand's words serve as a testament to her lasting impact. Regardless of whether or not one agrees with her ideas, it's undeniable that her words are charged with profound energy.
Her perspectives on the value of self-interest and laissez-faire capitalism have urged us to contemplate what it means to exist as individuals in a world that is far from simple.
Rand's philosophy inspires us to take ownership of our fates, recognizing that we have the power to carve out our own paths and pursue fulfillment. However, this freedom requires that we also accept the weight of responsibility.
As Rand aptly stated, "The question isn't who is going to let me; it's who is going to stop me."
Let us all strive to embrace that responsibility and have the courage to follow our aspirations, just as Rand herself did.
Read Next: