Enthusiasm is a positive emotion that can brighten even the darkest of days. It is the driving force behind our hopes and dreams, and it may mean the world when it comes to achieving our goals.
Whether you want to make a positive change in your life, take on a new challenge, or simply spread joy to people around you, enthusiasm is key.
In this article, we'll look at the power of enthusiasm through a compilation of inspiring enthusiasm quotes. They highlight the importance of enthusiasm in our lives and give a look into the various ways this positive emotion can improve us and others around us.
So, whether you're feeling down or simply looking for some motivation, keep reading to learn about the power of enthusiasm and find the words to light your own fire.
Famous Enthusiasm Quotes to Inspire You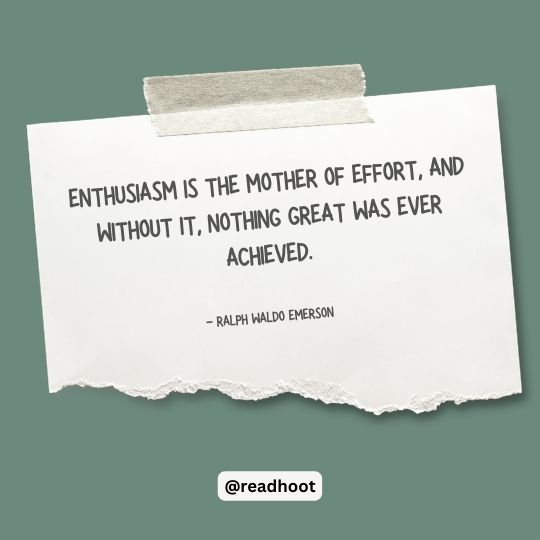 Famous Enthusiasm Quotes To Remember
The importance of Enthusiasm:
Enthusiasm is a necessary component of having a fulfilling life. It improves our attitude, helps us overcome obstacles, and makes us feel more connected to others. We are more inclined to take risks, try new things, and make a good difference in life.
The benefits of having an enthusiastic attitude:
Enthusiasm has many positive effects on our life, including more happiness, better health, and stronger relationships. It can also help us achieve our goals more quickly and easily.
We are more likely to be motivated, focused, and resilient when we approach life with enthusiasm, which may lead to better success and achievement in many areas of our lives.
Whether we're following a specific interest, building a career, or simply trying to make the most of every moment, enthusiasm is the secret to unlocking our potential and creating a brighter future.