John Wooden's words have always had a special place in my heart. His wisdom, clarity, and unwavering commitment to character and values have never failed to inspire me.
Whenever I read his quotes, I feel like he's speaking directly to me, reminding me of what's truly important in life. Whether you facing a difficult challenge, feeling lost, or just need a pick-me-up, John Wooden's quotes are always there to offer comfort, encouragement, and a new perspective.
Read More: 6 Best Books For Athletes That Will Challenge Your Willpower
In this article, I want to share some of my favorite quotes from this incredible man and reflect on the lessons they've taught me about life, leadership, and success.
John Wooden Quotes On Success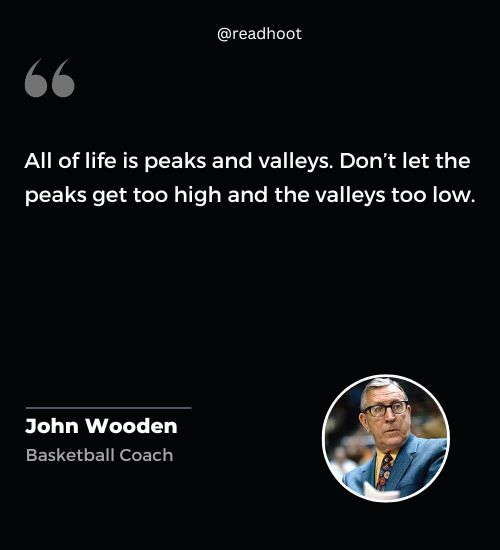 John Wooden Quotes on Leadership
Short John Wooden Quotes
Who is John Wooden:
John Wooden was an American basketball player as well as a coach. He is recognized as one of the best coaches in sports history. Wooden coached the UCLA Bruins men's basketball team for 27 seasons, From 1948 until 1975, guiding them to 10 NCAA national titles, including seven in a row from 1967 to 1973.
Wooden was born in Hall, Indiana in 1910 and grew up in a farm family. In the 1930s, Wooden was a three-time All-American at Purdue University. He played briefly with the Indianapolis Kautskys of the National Basketball League (NBL) after college before beginning his coaching career.
Wooden was known for his focus on discipline, hard effort, and strong moral character, in addition to his success on the court. He developed the "Pyramid of Success," a collection of principles he thought were required for success in both basketball and life. These values were hard work, passion, self-control, and faith. Wooden was also respected for his humility and ability to connect with his players. Many of the game's finest players, including Kareem Abdul-Jabbar (previously Lew Alcindor) and Bill Walton, admired and appreciated him.
After retiring from coaching in 1975, Wooden remained involved in basketball, acting as a commentator and mentor to future coaches, as well as delivering speeches and publishing books about his coaching philosophy. He was posthumously awarded the Presidential Medal of Freedom, the nation's highest civilian honor, by President Barack Obama in 2010. He passed away in 2010 on 4 June at the age of 99.