I'm sad for the future generations who will not be able to see such talent ever again. Man, Juice Wrld had so many unreleased songs. I mean he was getting prepared for his legends never die album and that got delayed because of his death.
To be honest, I didn't care too much for him but a few months before he passed, I was really growing admiration for his music, even right now while writing this article — I'm listing his song name Smile (with The Weeknd).
Man, I've never been more affected over a celebrity death in my life. It feels so heavy while I'm writing and collecting Juice Wrld Quotes.
Might you like: Travis Scott Quotes & Lyrics On Life
Juice Wrld often said that he only wrote from his personal experiences that expressing his pain and vulnerability through music was something that helped him find a sense of inner strength.
All his songs hit the heart and motivate me in every way that's possible. For sure, Juice WRLD had an enormous impact on the world of hip-hop in his incredibly short career.
Memorable Juice WRLD Quotes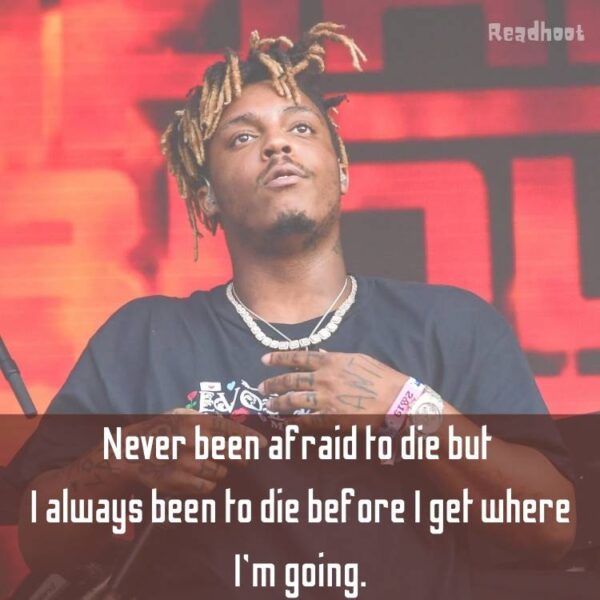 What do you think of the Juice WRLD Quotes?
These are the Juice WRLD quotes or lines he said throughout his short journey. For me, his music had a huge impact on my life.  It's Funny how the Blessed ones had the most Curses.
The main thing I like about his songs is that he wasn't trying to impress people with his music. He just expressed his feeling through his music – that is something very rare and that makes him different from the average artiste out there. He seemed to be a very nice guy and was full of vibes and magnificent talent.
What's your favorite Juice WRLD quote or line? If you think, I've missed any quotes. Let me know in the comments section.