Imagine a journey through the depths of hell, the ascent to the heights of paradise, and the reflection on the human experience in between. All of these are captured in the epic poem 'The Divine Comedy' by Dante Alighieri. This masterpiece has stood the test of time, inspiring generations with its great insights into the human condition.
In this article, we explore some of the most profound Dante Alighieri Quotes that continue to resonate with readers even today.
From the darkest depths of despair to the brightest heights of hope, Dante's words offer a guide to navigating the complexities of life and the search for meaning.
So let us begin this journey with Dante, as he leads us through his remarkable vision of the afterlife and the human journey.
Brief Introduction of Dante Alighieri
Dante Alighieri (1265-1321) was an Italian poet, philosopher, and political thinker of the Late Middle Ages. He is best known for his epic poem "The Divine Comedy," which describes his journey through Hell, and Paradise. Dante's work has had a lasting impact on Italian literature and culture, and he is considered one of the greatest poets of all time.
Here are a few interesting facts about Alighieri :
Dante was born in Florence, Italy, in 1265. He came from a noble family but was exiled from Florence in 1302 for his political views.
Dante's epic poem "The Divine Comedy" was completed shortly before his death in 1321. It is widely considered one of the greatest works of literature in the Western canon.
In addition to his poetry, Dante was also a political thinker and wrote several works on political theory. His ideas about a united Italy helped inspire the Italian Risorgimento, the movement for Italian unification in the 19th century.
Dante was a polyglot and was fluent in several languages, including Latin, Italian, and Provençal.
Dante's portrait appears on the Italian 2 euro coin, and he is celebrated annually on the national holiday "Dante Day" on March 25th.
Most Famous Dante Alighieri Quotes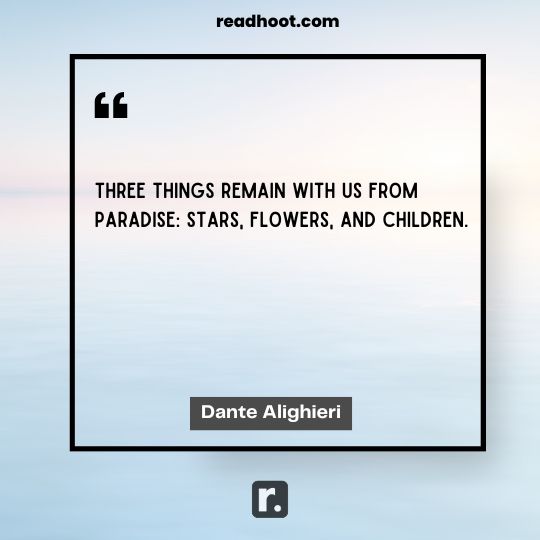 Inspirational Dante Alighieri Quotes on Love and Life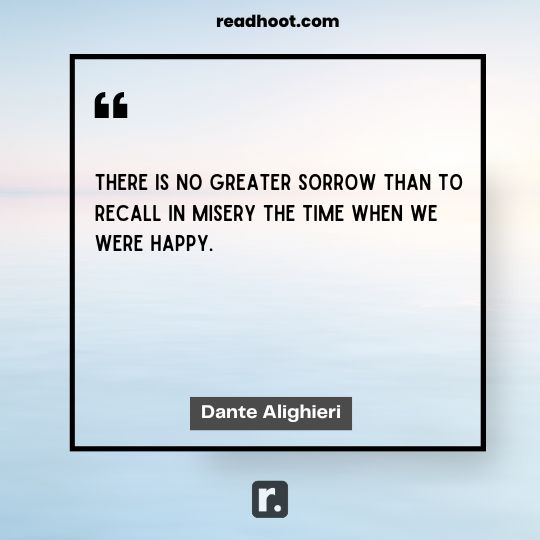 Dante Alighieri Quotes to Enrich Your Life
Quotes from the Divine Comedy
As the geometer intently seeks to square the circle, but he cannot reach, through thought on thought, the principle he needs, so I searched for that strange sight.
From a small spark, a Great flame has risen.
Heat cannot be separated from fire, or beauty from The Eternal.
The poets leave hell and again behold the stars.
There, pride, avarice, and envy are the tongues men know and heed, a Babel of despair.
Pride, envy, avarice – these are the sparks that have set on fire the hearts of all men.
Here pity only lives when it is dead – Virgil
I found myself in a forest dark.
O human race, born to fly upward, wherefore at a little wind dost thou so fall?
He is, most of all, l'amor che move il sole e l'altre stelle.
I wept not, so to stone within I grew.
The heaven that rolls around cries aloud to you while it displays its eternal beauties, and yet your eyes are fixed upon the earth alone.
Doubting charms me no less than knowledge.
They yearn for what they fear for.
It is a necessity and not a pleasure that compels us.
It was the hour of morning, when the sun mounts with those stars that shone with it when God's own love first set in motion those fair things.
There's not the least thing that can be said or done, but people will talk and find fault.
One ought to be afraid of nothing other than things possessed of the power to do us harm, but things innocuous need not be feared.
You can stay and die or you can walk your ugly ass back through that gate. It's your call, pal.
As little flowers, which the chill of night has bent and huddled, when the white sun strikes, grow straight and open fully on their stems, so did I, too, with my exhausted force.
Did you find these quotes by Dante Alighieri inspiring?
We hope this journey through some of the most inspiring Dante Alighieri quotes has been a valuable experience for you.
Which quote resonated with you the most? Let us know in the comments below, and don't forget to share these quotes with your friends and family to enrich their lives with Dante's wisdom.
Read next: