Have you ever stumbled upon a quote that has stopped you in your tracks and made you rethink your entire perspective on life? Friedrich Nietzsche quotes have the power to do just that.
The German philosopher's insights on human nature, morality, and self-discovery continue to inspire and challenge us to this day. Let's explore his most powerful quotes that are sure to ignite your inner philosopher.
Also, read:
Brief Introduction of Friedrich Nietzsche
Friedrich Nietzsche, a renowned and controversial philosopher of the 19th century, left an indelible mark on Western thought. Despite his declining health and mental breakdown, Nietzsche's philosophical legacy remains influential, inspiring scholars and thinkers across disciplines.
Here are some well-known facts about Nietzsche:
Friedrich Nietzsche was born on October 15, 1844, in Röcken, Prussia (now Germany).
Nietzsche became the youngest-ever appointed professor at the University of Basel at the age of 24.
In 1870, Nietzsche served as a medical orderly during the Franco-Prussian War and later retired from academia due to health issues.
Nietzsche is best known for his works, including "Thus Spoke Zarathustra," "Beyond Good and Evil," and "On the Genealogy of Morality."
He coined the phrase "God is dead" to critique the declining influence of religion and the concept of absolute truth in modern society.
He suffered a mental breakdown in 1889 and spent the last years of his life in a state of mental illness until his death on August 25, 1900, in Weimar, Germany.
Famous Friedrich Nietzsche quotes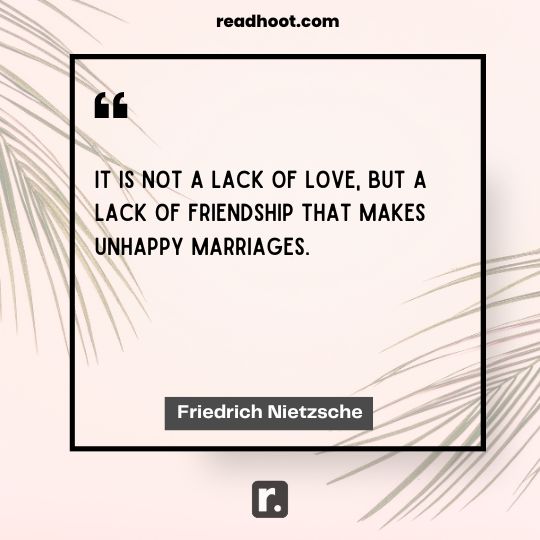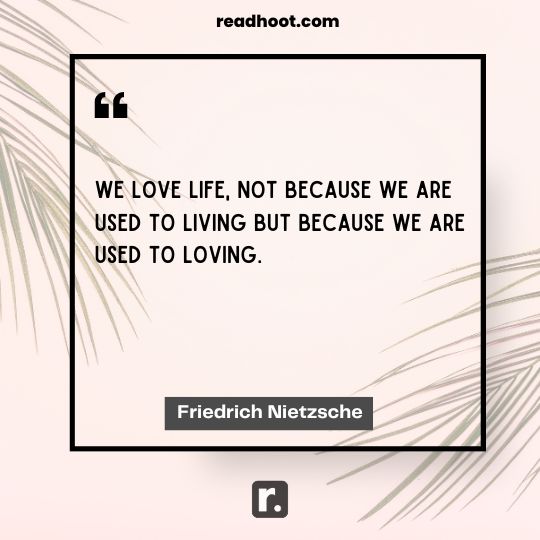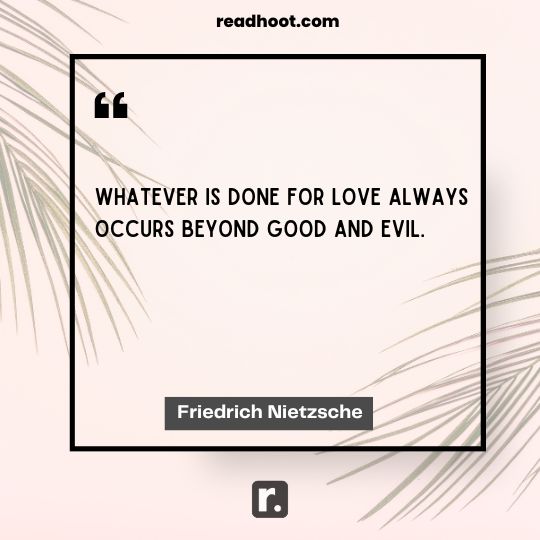 Powerful Friedrich Nietzsche quotes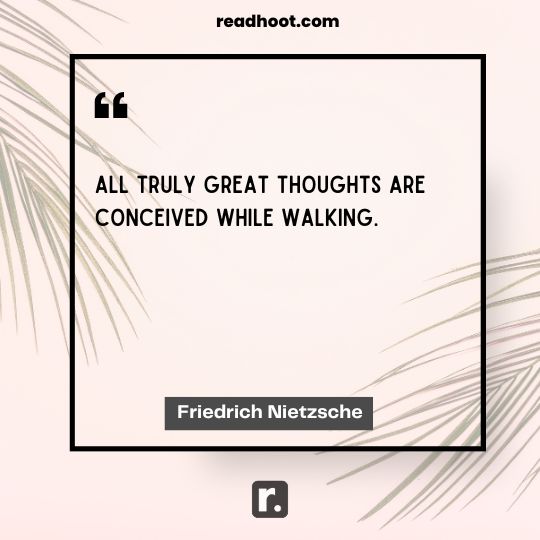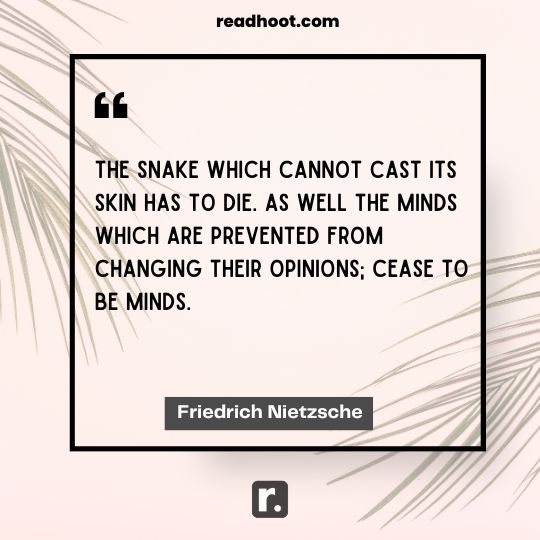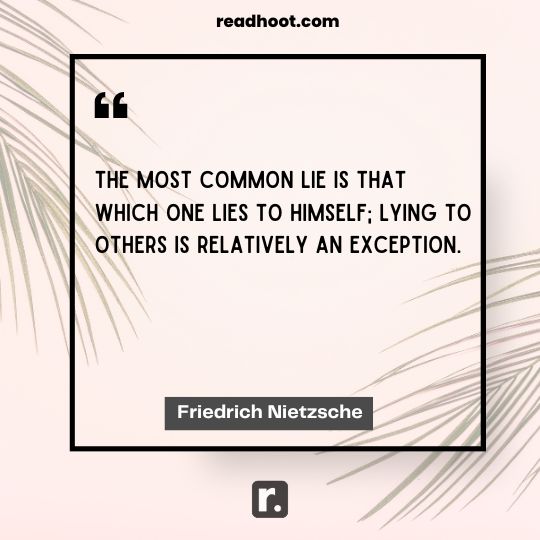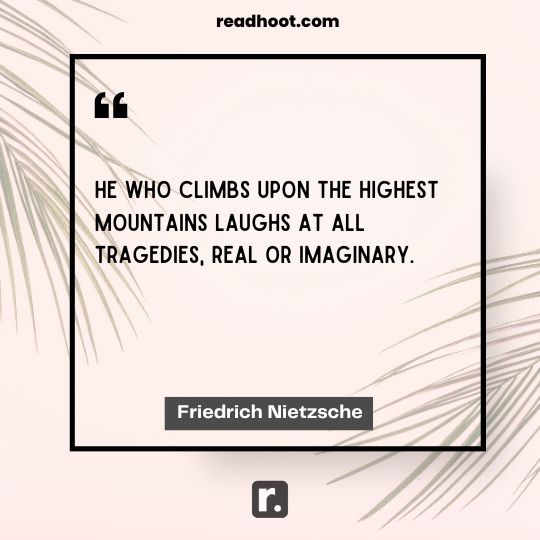 It seems to me that a human being with the very best of intentions can do immeasurable harm, if he is immodest enough to wish to profit those whose spirit and will are concealed from him. . . .[/alert-warning]
To predict the behavior of ordinary people in advance, you only have to assume that they will always try to escape a disagreeable situation with the smallest possible expenditure of intelligence.[/alert-warning]
Friedrich Nietzsche Quotes on Life & Love
Friedrich Nietzsche Quotes to Ignite Your Passion
A good writer possesses not only his own spirit but also the spirit of his friends.
One does not only wish to be understood when one writes; one wishes just as surely not to be understood
Thoughts are the shadows of our feelings – always darker, emptier, and simpler.
To find everything profound – that is an inconvenient trait. It makes one strain one's eyes all the time, and in the end, one finds more than one might have wished.
And once you are awake, you shall remain awake eternally.
What else is love but understanding and rejoicing in the fact that another person lives acts and experiences otherwise than we do?
Ah, women. They make the highs higher and the lows more frequent.
Sometimes it is harder to accede to a thing than it is to see its truth.
We should consider every day lost on which we have not danced at least once.
Existence really is an imperfect tense that never becomes a present.
I fear you close by; I love you far away.
God is dead, God remains dead, and we have killed him.
The visionary lies to himself, the liar only to others.
It is nobler to declare oneself wrong than to insist on being right –especially when one is right.
Love brings to light a lover's noble and hidden qualities-his rare and exceptional traits: it is thus liable to be deceptive of his normal qualities.
One may sometimes tell a lie, but the grimace that accompanies it tells the truth.
Many a man fails as an original thinker simply because his memory is too good.
One repays a teacher badly if one always remains nothing but a pupil.
I assess the power of a will by how much resistance, pain, and torture it endures and knows how to turn to its advantage.
There are no beautiful surfaces without a terrible depth.
FAQs on Friedrich Nietzsche
What is Nietzsche's most famous quote?
Nietzsche's most famous quote is "God is dead."
What was Nietzsche's theory?
Nietzsche's theory revolved around the idea of the "will to power," which suggests that the driving force behind human behavior and existence is the desire for power, achievement, and self-overcoming. He also criticized traditional moral and religious values, advocating for the affirmation of life and the pursuit of individual greatness.
What is Nietzsche's Superman?
Nietzsche's concept of the "Superman" or "Ubermensch" is an idealized individual who transcends societal norms, creates their own values, and embraces their individuality. It symbolizes human potential and the pursuit of self-mastery. The concept has been misunderstood as promoting superiority, which Nietzsche did not endorse.
What were Nietzsche's last words?
Nietzsche's last words, according to reports from his caretaker, were "Mutter, ich bin dumm" (translated as "Mother, I am stupid"). However, the accuracy of these accounts is disputed, and there is no definitive record of his actual last words.
Did you find these quotes by Friedrich Nietzsche inspiring?
As you reflect on the wisdom shared in this Friedrich Nietzsche quotes article, we invite you to share your thoughts in the comments section. Which quote resonated with you the most? How do Nietzsche's ideas shape your perspective on life? Let us know in the comments below.
As Friedrich Nietzsche famously said, "All truly great thoughts are conceived while walking." These quotes are a testament to his great thoughts, which continue to inspire and challenge us to this day. We hope that this collection of Friedrich Nietzsche quotes has given you a glimpse into the philosopher's brilliant mind and encouraged you to embark on a journey of self-discovery and personal growth.
Read Next: