Are you looking for encouraging Willpower quotes? I've compiled a list of inspirational willpower quotes. These words of wisdom from successful individuals will not only inspire you but will also remind you of the immense power you possess.
The following quotes are meant to encourage and motivate us to utilize the power of our willpower and achieve our goals in life. So, let us pool our willpower and strive for greatness together!
Do you ever feel like giving in to temptation or quitting a goal? We've all been there, but the good news is that we all have the ability to keep going and achieve our goals. That ability is known as willpower.
Read Also: 110+ Focus Quotes To Boost Your Concentration Power
Willpower is an essential component of human development and success. It is the internal power that allows us to manage our thoughts, emotions, and behavior in order to achieve our objectives and overcome difficulties.
Whether we're trying to kick a bad habit, live a healthier lifestyle, or follow a passion, our willpower is what defines us and pulls us forward.
Inspiring Quotes to Fuel Your Willpower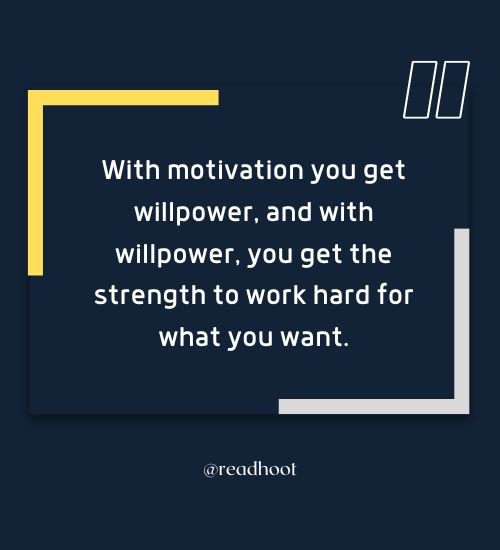 Quotes About Willpower To Fuel your drive
Here are some tips to boost your willpower:
Get quality sleep: Lack of sleep may significantly lower our willpower, thus it is necessary to get enough rest.
Eat well: A proper diet can supply the required energy for our willpower, thus eating nutritious meals regularly is essential.
Exercise regularly: Exercise has been proven to boost willpower, so include it in your daily routine.
Avoid temptations: Try to avoid situations that will put your willpower to the test, such as going past a bakery when on a diet.
Create realistic goals: It is important to set achievable goals that are within your reach so that you do not become discouraged and lose your willpower.
Practice self-discipline: Willpower is built through consistent self-discipline practice. This involves making small, positive changes to your life daily and sticking to them.