Are you an athlete looking for how to improve your performance and endurance? You might have tried a number of other methods that can help you become better like training videos, personal trainers, workouts, and gym classes among others.
However, if you have not tried the best books for athletes, then you could be missing out on a wealth of important information and resources. Whether you are a coach or trainer looking to train and inspire your team, or you are a training athlete, there are quite a number of excellent books for athletes that will change your training mindset and skills to make you improve.
Many of these books are written by professionals in the field while others are written by record-breaking athletes.
With so many books for athletes out there, it is difficult to settle for the best. To lift this burden off your shoulders, we have created a list of the 6 best books for athletes that will challenge your willpower and mindset, and introduce exciting strategies to improve performance and endurance.
Best Sports Books for Motivating Athletes
No matter your gender, age, or athletic activity you are in, these books for athletes have the potential to change your game and take it to the next level. Read on to discover the best books that will improve your athleticism by training both the body and mind.
1. Mind Gym: An Athlete's Guide to Inner Excellence
Mind Gym by Gary Mack is one of the most useful books for athletes that you should have on you to improve your performance and let your athletic talent take root. The book does not have any fluff and is perfectly suitable for athletes of any age. From the moment you start reading the book, you will be taken through engaging lessons to help you develop your athletic and mental prowess.
There is every reason for you to read this book.
You will get access to 40 great lessons and inspiring quotes from famous athletic professionals. This means that the book will help you learn and benefit from the same exercises, strategies, and techniques used by these prominent athletes to build their mental, body, and emotional muscles. Mack is therefore resourceful in terms of lessons in athletics and you will find that these exercises are not just beneficial, but are fun too.
2. Relentless: From Good to Great to Unstoppable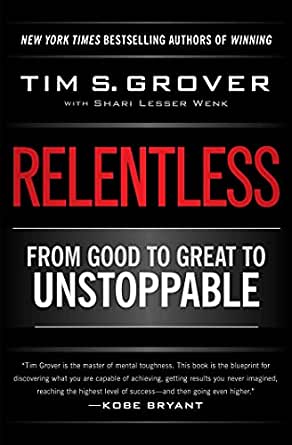 Tim Grover, the author of this book, has worked with unrelenting competitors in sports, athletics, business, and other fields for more than two decades and made these professionals even greater. These athletes include great names in the NBA such as Kobe Bryant, Michael Jordan, Dwyane Wade, and many others. Using this book, he reveals to the world what it takes to develop total physical and mental dominance, showing the readers how to become relentless and accomplish whatever they desire.
When you read this book, you will be amazed at how packed it is with stories and insights into the mentality of the most accomplished and successful athletes that have graced our modern times. The book lets you in on how even the best athletes become better, and how you can follow suit. Do you want to discover what you can achieve? Do you want to succeed in athletics and go even higher? Read Relentless right now!
3. The Champion's Mind: How Great Athletes Think, Train, and Thrive
Jim Afremow is the author behind this book that gives you great insights into how great performers in athletics, hall of fame professionals, and Olympians think. You know that even among great athletes, some stand out as better than the rest.
They are able to outperform the rest, especially during those important game-deciding instances. These professionals prove the fact that raw athletic capability does not necessarily lead to outstanding performance. What matters the most is the mental game. These great athletes outshine the rest because of how they train, how they think, and how they approach each day of their athletic lives. The book tells you that you are not an exception – you can develop the same attributes.
You need to read this book because it shows you how to improve your overall performance in athletics without so much workout. It is full of strong and practical lessons that you need to develop and improve your mental and athletic performance. If you want to reach your full potential as an athlete, coach, or trainer, then The Champion's Mind is a must-read.
4. Endure: Mind, Body, and the Curiously Elastic Limits of Human Performance
Do you want to surpass your supposed physical limits in athletics? This book by Alex Hutchinson provides a window through which you can discover the science and psychology of athletics endurance and get the secrets of achieving the unseen extra potential that is within you. The book clearly explains the science behind pain and how you can maneuver and succeed in your workout exercises.
When you read this book, you will discover that your body can handle and do a lot more than you can believe. However, you need to train your mind before realizing this extra potential. If you are looking for the most complete, thoughtful, and engaging book in the area of mind and endurance, your best bet is Endure.
5. Peak Performance Every Time
If you are looking for a great mental strength and training book for athletes, Peak Performance Every Time by Simon Hartley should be on your reading list. It combines proven and powerful research from psychology in sports with professional performance inputs and quotes from athletes that the author has worked with over time.
By reading this book, you will get all that you need to develop a high-performance mentality, including mental skills practices such as setting the right goals, visualizations, and self-talk. You will also learn how to deal with the stress and pressure of competitive athletics. The best thing about this book is that you do not need to be a sports pundit to grasp the salient points included. The book uses no academic jargon and is, therefore, suitable for all.
6. The Mindful Athlete: Secrets to Pure Performance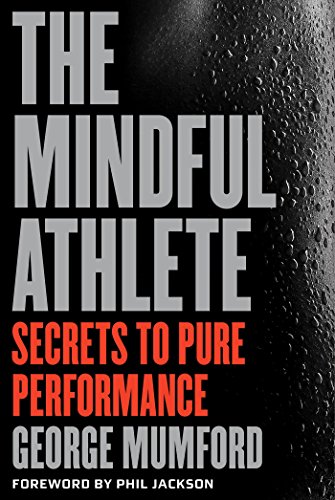 This book aims to teach you the field secrets of the best performers in different sporting activities. George Mumford, the author of this masterpiece, provides exciting stories in the area of sports while still offering great ideas of how you can develop ad improve your mental strength and mindfulness in athletics. He provides a great recollection of his works with such professionals as Kobe Bryant and athletic teams such as Golden State Warriors. What else would you be looking for?
By reading this book, you will discover why mindfulness matters in athletics or sports in general. The book will also help you figure out how to take your game to the next level using professional insights from this long-time expert in sports.
Conclusion
There are many books that claim to offer advice on how to improve in sports or athletics. However, most of these may not be properly targeted to your field or may offer incomplete information. This is why we have created a list of the six best books for athletics that will make you improve your performance both physically and mentally.