The goal of setting up a business for millions of entrepreneurs is to make a profit while following your passion. For you to achieve success in any business, you need to be ready to take risks, be ready to learn new business strategies to be able to stay ahead of your competition, and stay aware of challenges of the possible challenges that you can encounter when managing your business.
If you are probably questioning how to achieve all the business skills and strategies. Worry not, for we have made a list for you that is worth spending time on, six of the best books for entrepreneurs, and most importantly, that will help you grow in business and also in life to become a successful entrepreneur.
These entrepreneur books will provide you with a real-world approach to building a business by giving proper management of a startup, searching and determining a profitable business model, and creating a growth engine. Also, check the best leadership books to build a strong team.
From Idea to Launch: The 6 Best Books for Entrepreneurs
As an entrepreneur, reading can be a valuable way to gain new insights and skills that can help you grow your business and achieve success. There are many excellent books out there that can provide valuable guidance and inspiration for entrepreneurs. Some of the top picks among these books are listed below.
1. The Psychology of Selling: Increase Your Sales Faster and Easier Than You Ever Thought Possible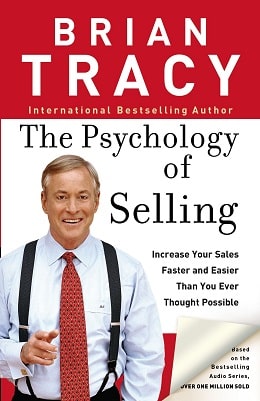 The Phycology of Selling is authored by sales trainer and topmost professional speaker, Brian Tracy. This book gives you beneficial information, skills, and strategies on how to make more sales by focusing on your customers rather than jumping right over to get the final results.
Every entrepreneur is aware that appropriate sales techniques are the key to all successful businesses. Having quality and good products will not lead to the growth of the business if you are incapable of approaching clients and making them want to purchase your products.
Why do you need to read this book?
The reason why you need to read this book, one reason is that you will learn how to double and triple your sales in any market, a good example of a sales guru is Brian Tracy and he guarantees you will gain prosperity as he did through the discovery that is The Psychology of Selling.
Many salespeople have become billionaires by heeding and implementing Brian Tracy's ideas more than any other sales method ever developed. Also, the book teaches you how to build unshakable confidence, ideas, strategies, and methods to make more sales.
---
2. How To Win Friends & Influence People: The Only Book You Need to Lead You to Success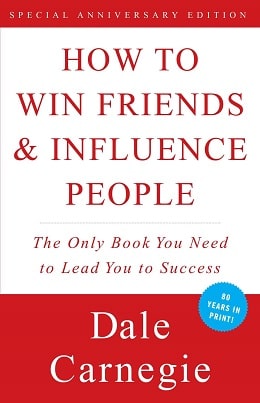 The book is authored by Dale Carnegie, it is a promise that How to Win Friends and Influence People is life-changing, for it will not only tutor you on what to and not to do when creating relationships, but also, it will teach you how to become a better entrepreneur.
Dele Carnegie teaches us that, If there is any secret to achieving success, it lies in the ability to show respect for other people's opinions and see things from other person's points of view and also from your angle.
Why you should read this book?
This book breaks down all the processes you need to follow, to make productive friendships with the people you interact with. In addition to that, you grasp the etiquette of how to handle your competitors and overcome competition.
Every entrepreneur needs to read this book as regularly as possible, it is an exemplary business guide, where you can gain the importance of good listening skills, and get honest and sincere appreciation from your clients.
---
3. Rich Woman: Take charge of Your Money Take Charge of Your Life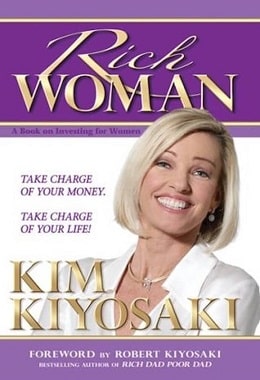 The book is an audiobook on investing for Women by Kim Kiyosaki to apprise women all over the world about the power of money and how women can accomplish that in the book Rich Woman.
Why write an investment book just for women? How to sell and procure a stock or how to get a profitable rental property is identical for both men and women. However, the difference is the unique issues that women come across when it comes to money and investments.
A certain percentage of women everywhere, either are either single, divorced, or responsible for the financial well-being of their children, and the techniques used before by the previous generations are rapidly changing now. The goal of Kim Kiyosaki is to educate and empower women to get smarter about their finances and create financial security for them to be fully independent.
Why you should read this book?
In the book, the author teaches women of diverse ages how to use the financial knowledge they possess, those that they do not teach in a school to pursue their dreams.
Money has tremendous control over how we live, and if you have a vision for what you want in life and goals you are planning on achieving in the future and are willing to do what is required of you, Rich Woman is the book you should grab.
4. The Startup of You: Adapt to the Future, Invest in Yourself and Transform Your Career
Due to the high cost and standards of living in the current economy, you need to go for the opportunity to work a part-time or full-time job while still growing your business if you can do so to thrive in modern society. The Startup of You authored by the cofounder and chairman of LinkedIn Reid Hoffman is the ideal book for you.
The book entails insights and strategies to help every one of us to create the life we want which is to have an entrepreneurial mindset when even when working on other jobs.
Why you Should Read this Book?
You will learn the best practices of most successful startups and how to adopt these entrepreneurial practices to your career. Moreover, you need to know how to adapt your career plans as the pandemic rage and technology continues to flip over organizations, develop a competitive advantage, take proactive risks, and engineer serendipity. This book will tutor you on all that.
5. The 4-Hour Workweek: Escape 9-5, Live Anywhere, And Join the New Rich
For anyone who has not heard of the author of the book The 4-Hour Workweek, Timothy Ferriss he has been trending after the launch of this book.
Becoming an entrepreneur is all about enjoying all the good things that life has to offer without having to work 40 or more hours a week and especially now that we are all looking for that easy way to get the final result.
Reasons why you ought- to study this book?
It does not count what your dream is, whether it is traveling to different corners of the world, or earning a yearly five-figure payment with zero operation.
Timothy Ferriss helps you know the 50 practical tips and case studies from compendiums that have multiplied their income, overcome unavoidable risks, and also, to put you in the optimal mindset to start establishing a business that will allow you to work 4 hours a week and still make a fortune. The 4-Hour Workweek is the design to use.
6. Click Millionaires: Work Less, Live More with an Internet Business You Love
In the ultramodern financial system, the Internet is taking over the world with models such as e-commerce and the dream of a successful business right now is to run your company from your home office. Additionally, the internet has made it possible to launch a business with little or no startup capital.
Click Millionaires by Scott Fox focuses on how to combine outsourcing and automated online marketing to build a monthly income online.
Why you should read this book?
It explains in-depth, how to use electronic online advertising and all the available tools to recreate earnings revenues in your corporation. It is the perfect book to educate someone on how to make online businesses and how you can work on a job you love and still allow you freedom and income to live the life you truly seek.
Wrapping up: Best Entrepreneurship Books
Following your passion when making a profit at the same time is everyone's dream. Furthermore, we all seek employment or startup businesses to make gain funds from that.
To achieve success as an entrepreneur you need to be chastened when conducting your business by making sure you consider the interest of the consumers and insure you keep up with the current business trends, for illustration, using social media as an advertising platform which nearly every salesman is using.
Also, be apprehensive of your competition. Reading the books listed above will help you take your career and company in the ultimate direction.