To achieve success in business, you need to have financial literacy. The key importance of reading personal finance books is that they help bring us closer to the real world and most importantly, we learn the additional benefits of utilizing finances carefully and wisely in these books.
Books are the most accessible and also the wisest counselors you can ever find. If you are seeking advice or solutions for challenges, you may be experiencing in terms of funds, we have prepared a list of the best personal finance books to guide you where you might be stuck. You can also check this guide on personal finance management.
A country like India is a good example. It is the most dominant market for various companies and an amazing resource for multinational corporations that have gotten to that level due to adequate financial knowledge.
Read More:  Must-Read Books Before You Turn 30 – Mind Changing Books
Though, you still find that many industries in India fail due to a lack of economic education. This is why it is crucial to make brilliant financial decisions to promote the economic growth rate in your workplace. The following books will educate you on finance and personal monetary management.
Must-Read Personal Finance Books to Help You Control Resources
1. The Bogleheads': Guide to Investing (Second Edition)
If you are a beginning investor, this book is a simple and concise guide where you can gain the necessary investment techniques. Authored by Mel Lindauer, The Bogleheads' provides you with sound, realistic advice which can be used by anyone.
The author has indicated a step-by-step plan that is easy to apply to develop your financial well-being, that way you can profit more and worry less about your investments.
Why you should read this book?
The book will give you answers in case you encounter a financial crisis or when deciding how to spend your savings. In addition to that, Lindauer tells us that investing like a Boglehead will guarantee you victory and prosperity in your daily activities.
The book contains an elaborate approach to the fundamentals of investing and making your money work for you. It also breaks down vigorous concepts into a clear overview for you to comprehend easily.
---
2. Rental Property Investing: How to Create Wealth with Intelligent Buy & Hold Real Estate Investing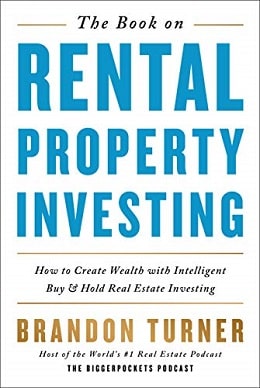 Brandon Turner, the writer of Rental Property Investing talks about a newer investment advancement which is placing your funds in real estate. For anyone thinking of ways to gain wealth or acquire financial freedom, this book will help you become a billionaire real estate shareowner. The book impacts realistic and unique strategies that investors all over the world are emulating to build noteworthy cash flow with rental properties. The author informs us that most millionaires believe real estate is among the top best means of investment.
Why you should read this book?
Brandon Turner an active estate investor, offers equips you with personal tips to accomplish goals that we set up. From the book you will get an easy-to-use path of property investing, focusing on a certain idea in each chapter.
The main aim of the author is to support your success and eliminate the junks that drag you behind. Experienced shareholders constantly learn how to design an achievable plan, find fantastic deals, analyze properties, and manage rentals.
---
3. Everyday Millionaires: How Ordinary People Build Extraordinary Wealth-and How You Can Too
The author of the book, Chris Hogan, communicates with listeners around the world about the secrets and tips to amassing a five-figure net worth capacity or more. I mean who would not be curious of knowing how to achieve such great deals?
Everyday Millionaires is the perfect demonstration that anyone can emerge as a multi-millionaire. As long as you are interested and willing and determined to get enormously rich. You can get a solid and actionable plan that will get you in that direction, simply by studying this book.
Reasons why this book is a must-read?
According to the largest survey ever conducted on the lifestyle of many successful people, this book directs you on how to take authority over your money and turn your dreams into reality.
Some of the favorite lessons taught from the book include: Having a basic job with skills on money rules can help you become wealthy. Another one is, instead of focusing on whether you can reach there, be responsible and set achievable goals.
---
4. Rich Dad Poor Dad: What the Rich Teach Their Kids About Money-That the Poor and Middle Class Do Not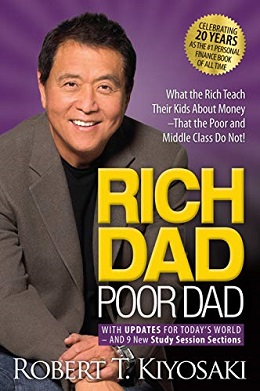 Robert Kiyosaki, the author of Rich Dad Poor Dad, takes us through the life of being raised by a rich father and also the biological dad and how the two parents have modeled his thoughts about money and financing. The book alters the myth that for you to become rich you need to earn a high income and trains us the difference between using employment to earn money and having your money work for you.
Why you should read this book?
First of all, this book explores the assumption that parents should enroll their kids in learning institutions for them to acquire knowledge and experience. It also helps you compare assets with liabilities so as to know what functions when establishing a business.
The narrator analyzes the principles and financial practices of the rich dad and those of his biological father who was poor but highly educated.
---
5. The Financial Diet: A Total Beginner's Guide to Getting Good with Money
The book offers you guidance on how to create income even when you have no clue where to begin from. The Financial Diet, authored by Chelsea Fagan is a personal finance book for people who are less concerned about Personal funds.
Especially if you are a spendthrift looking for ways to save your money or want to settle an outstanding debt that you would like to clear. This book is an optimal remedy that contains tools to enable you to create a budget to minimize wastage and the best choices to make when dealing with your credit.
Why you should read this book?
You should read this book because it mentors you on how to get good with capital every financial year and further proposes ingredients for a pocket-friendly expenditure.
Another benefit of the book is it has straightforward tips on topics ranging from budgeting and investing to finance-related and mortgage conversations. You can have these discussions with your friends and family to succeed together as a team.
---
6. The One Week Budget: Learn to Create Your Money Management System in 7 Days or Less
The author of the book, Tiffany Aliche, introduces financial wisdom with the mindset of helping women become successful individuals in the community and everywhere else. Featured on Good Morning America and in New York Times, Tiffany appreciates the fine points of finance. The narrator goes on to share that knowledge in the books with us.
Why you should read this book?
We recommend you read this book so that you can be in a position to manage your earnings and pay bills without going through the tough and hectic day-to-day hassle. The book is designed to channel accurate, systematic, and reliable information on the subject of personal finance.
It also addresses issues according to the context to ensure that particular financial situations are evaluated with professionalism and care. The author educates us the liability incurred and how it impacts operations.
---
7. Broke Millennial: Stop Scraping By and Get Your Financial Life Together
From the book, Broke Millennial, authored by Eric Lowry the reader, can get skills to focus on key financial struggles millennials face, for example, student loans and how you can consult your partner on chapters relating to debts.
It acts as a guide for youthful people, presenting techniques to manage your finances so that you can quit complaining regularly but rather begin to live more confidently when it comes to money.
Why you should read this book?
The author touches on major cash issues students aged twenty or thirty battle to understand. Lowry speaks to anyone who is just beginning the life of personal financial management. While giving simple advice you are able to follow so as to accomplish tremendous achievements.
In Conclusion
To attain remarkable profits, you need to be disciplined especially when money is a topic of discussion. The are millions of successful people we look up to and desire to be like. These books offer the ideal guide to becoming the millionaire you dream of. You just need to put the ideas and strategies you learn or gain from personal books of finance into action to achieve success.
Do not worry that you are just starting but focus on what will truly help you reach your goals.