The quest for inspiration that we seek, to enrich our souls and control our feelings is a journey with no end. Practicing habits that can assist motivate you to be creative, and be Kind to yourself and other people can help you deal with difficult situations.
Most importantly, you can come up with better and more friendly solutions for tough periods. It is at times like these that you need to read spiritual books, which inspire, motivate, and nourish your soul and mind.
Reading these books, helps us feel at peace with ourselves and with those we interact with. Having a positive mindset and being confident will enable you to find ways to show gratitude and love towards everyone. The main focus of these books is self-expression, kindness, emotional intelligence, healing, and more beneficial life skills.
Best Spiritual Books You Must Read to Nourish Your Soul
For those seeking inner peace, enlightenment, and a deeper connection with spirituality, these spiritual books give inspiration, guidance, and valuable insights. From ancient classics to modern masterpieces, these works cover a wide range of spiritual traditions and offer something for every reader.
Whether you're a seasoned seeker or just starting your spiritual journey, these spiritual books are sure to inspire, uplift, and guide you on your path to inner peace.
1. Sacred Woman: A Guide to Healing the Feminine Body, Mind and Spirit
This book is among the best-seller on Amazon in the spirituality category. Sacred woman, authored by Queen Afua is based on affirmations and rituals arising from ancient Egyptian temple teaching.
Queen Afua uses exemplary meditations and KMT temple lessons and guidance on rights of passage. This is to instruct us how to love and delight in our careers and bodies by spiritualizing the words we utter, the food we consume, and the relationships we engage in.
Why you should read this book?
The book guides us to accept our role and mission so that we can heal ourselves, other generations of women in our society, and the whole world. With love, intelligence, and passion, the author teaches us to concentrate on becoming the transcendent woman you manifest.
It is an amazing read which looks sort of like a bible, and a manual to better health and self-consciousness of the womb.
---
2. The Book of Joy: Lasting Happiness in a Changing World
The book illustrates what happens when two renowned spiritual experts unite for five days. The book of joy, written by Dalai Lama and Desmond Tutu is a summary of a friendship where different approaches to emotions end up strengthening a singular spiritual path.
Some of the feelings we experience include fear, stress, anger, grief, illness, and even death. The two narrators have been through the soul-breaking violence of oppression and have survived more than fifty years of exile. But this does not stop them from being happy, in fact that background has led the to be the most joyful people in the universe.
Why you should read this book?
This is an essential read for you get to explore the true joy and comfort of each obstacle of happiness from rage and panic. The book also provides you with eight pillars of joy, which gives the foundation for endless contentment.
In each chapter of the book, the author adds stories, knowledge, and skills. Lastly, they share their everyday joy practices that help anchor your emotional and spiritual well-being.
---
3. Creativity, Spirituality and Making a Buck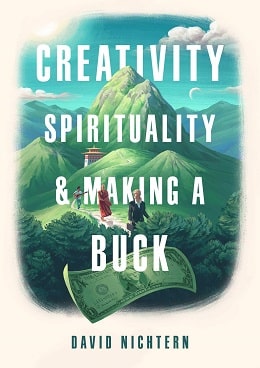 Creativity, Spirituality, and Making a Buck, authored by David Nichtern is subdivided into six parts. Nichtern has a different view of success which we all think is making money, rather it is involves combining a sense of wholeness in your life.
The first part presents mindful practice which is an operating system for enlightened living. The second part 'Getting Down to Business', reminds us that work goes in hand with separate from natural wisdom. Where we are taught to combine our talents with business-related projects.
What are some of the reasons to read this book?
Reading is mind-blowing. You gain a treasure of resources such as websites to videos and music, self-examination strategies for individuals, and questions for your own evaluation purposes.
The book is a door to expressing yourself with sincere honesty that you can admit when you are not okay with certain habits. If you want a book that is well-structured and informational for your spiritual journey and creativity, just choose this book by Nichtern.
---
4. Imprints: The Evidence Our Lives Leave Behind
Did you know you possess the ability to change the world for the better with little gestures? Well, Imprints authored by Patrick Gray and Justin Skeesuck teaches us that having a good impact on other people's lives does not have to include fanfare.
We are taught that it is the small things we do that count in this life. Each tiny or big decision you make can spread comfort or pain, light or darkness to other human beings.
What are some of the reasons to read this book?
There are many reasons why you should read this particular book. Anyone intending to learn more about building a legacy, should read this book because it will uplift your spirit and help set up a place of hope for any listener.
You learn the long-lasting significance of your words and deeds in society and the whole world and how to live a life with no doubts or regrets. The impact you leave behind will be determined by the choices you make right now.
---
5. Becoming Supernatural: How Common People Are Doing the Uncommon
Becoming Supernatural, by Dr. Joe Dispenza is a guide that cuts across science and spirituality. The author assists you to unleash your inner capacity to break free from the past and transcend into a great future.
The book combines ideas from scientific data with antique wisdom to show you how our kind can familiarize ourselves with a more mystical life.
Why you should read this book?
The book has intriguing and interesting chapters such as: How you can free yourself from early history by reforming your body to a new mind. Also, there are those topics talking about ways you can use to create reality in the generous current moment by changing your energy.
Studying this book will help you balance your internal nature regardless of what is happening in the outside world.
---
6. Strange Rites: New Religion for a Godless World
Instead of relying on traditional religious practices, Tara Isabella Burton, the author of Strange Rites focuses on the kaleidoscopic of America's new spiritual traditions and subcultures.
Burton puts emphasis on astrology, sorcery, and other cult-like social classes of today's age and generation. An era that is less aligned with spiritual beliefs.
Why you should read this book?
One thing that will motivate you to read this book is, you will be fascinated by how history of each tactic of thinking is examined and demonstrated. Due to advancing technology, prominent American sacred culture is undergoing a revival as compared to Great Awakening of past centuries.
If you are looking for one of the most informationally-exhaustive books, choosing this one is your best bet.
7. Emotional Intelligence: Why It Can Matter More Than IQ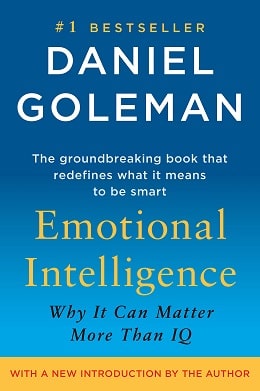 In recent times, we are undergoing competitive workplaces and unstable economic conditions. Because of this, we are repeatedly searching for effective tools to help manage, adjust and strike out ahead of the group. Social skills and emotional intellect go along with what you have been taught in school.
In the sense that, you will need more than big brains to build and maintain friendships. But knowing what emotional intelligence (EQ) is, start your cruise to better your life.
Why you should read this book?
The book delivers a step-by-step process for increasing your EQ through four core skills which are: Self-awareness, self-control, social acquaintance, and relationship management.
It is a fast read with compelling and good content to help you understand other people's points of viewing things and better your relation with others. Are you looking for the best book to make your emotions more intelligent? Look no further because this book will provide you with this and more.
Endnote:
Spirituality is about searching for a meaningful connection with bigger things than yourself. It includes staying alert and understanding your own feelings to achieve a healthy and positive life. When you face a tragedy, it is important to utilize remedies cautiously so that you can be a good role model to people around the world. The books we have summarized for you will logically direct you on the right spiritual path to follow to enable us have a genius generation and brighter future.
In order to make you a better person in terms of spirituality, we have provided you with a specially created list of the 7 best spiritual books you must read to nourish your soul. Reading these books will go a long way to make your spirituality awaken and work for your own good.