For one to be a good leader, first one needs to work on your own behavior. This is because good leadership is demanding and requires you to be able to manage yourself before managing others, as it said, charity begins at home.
One has to be emotionally and physically prepared and well aware of the job to be taken, which will help in improving one's leadership skills
Leadership books are resources, that help in mentoring and assisting people by showing them how they need to perform in their careers. These books also promote leadership competencies and sharpen your skills to improve your daily tasks.
The books enable people to know how to build teamwork while working and also, assist to learn about leadership qualities that will help you be a good leader now or in the future.
Don't forget to read our article on communication skills books to sharpen your communication skills.
Best Books To Improve Leadership Skills
Do you want to become a more competent leader? Here are the 7 best books on leadership that cover topics such as communication, conflict resolution, decision-making, team-building, and strategic thinking.
These books often offer practical tips, strategies, and case studies to help leaders develop their skills and become more effective in their roles.
Whether you are an experienced leader looking to hone your skills or an aspiring leader seeking to learn more about effective leadership, these great books that I listed will surely help you grow and improve as a leader.
1. Dare to Lead: Brave Work: Tough conversations: Whole hearts
Dare to lead shares a session on the power of accountability and warmth in leadership. The author Brene Brown, says that leadership is not all about status or control, but it is also about being keen on employees and recognizing their efforts, creativity, and ideas. This book will help you become a fearless and self-assured leader.
Why should you read this book?
The reason you should read this book is that it shows the importance of employees and how you as the leader should emulate leadership qualities such as: motivating the workers, demonstrating honesty and transparency, and also having effective communication.
The book also educates you on the responsibility of a powerful leader such as the need to be responsible for finding potential in people, acknowledging good work, and also giving rewards. The leader must also be acknowledging new ideas and suggestions from people.
2. The Mentor Leader: Secrets to Building People and Teams That Win Consistently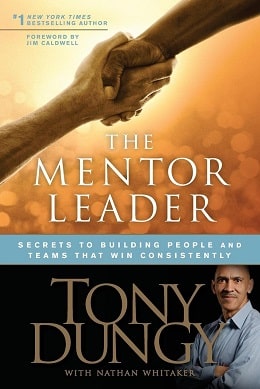 Tony Dungy, the author of The mentor leader who is also a successful former NFL coach, explains, that for you to succeed you need to first uplift the people surrounding you. The author provides you with one simple principle which is "your job is to help your players be better". He later explains that when you are a leader your role is to guide people, then they can follow your steps for you are now their counselor or mentor.
Why is it that you should read this book?
The author teaches you that leadership is about educating, engaging, encouraging, empowering, energizing, equipping, and elevating individuals in a society or the world at large. The book also contains methods that will help you be a leader and participate in teamwork to increase morale in the organization or team. This will assist to achieve uniformity at the workplace so as to achieve success and gain the upper hand.
3. Leaders Eat Last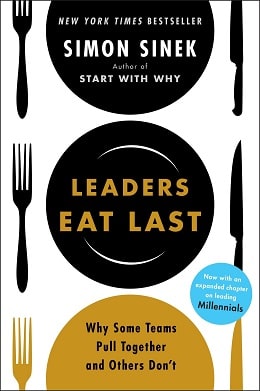 Leaders eat last by Simon Sinek, is an inspirational book with military principles. It is about high-ranking officers eating after their juniors to portray the importance of putting down your needs before other people. Simon tutors you with approaches that you can use to make people feel appreciated and loved. This feeling, makes the crews work harder and smart as they feel motivated by their leader and additionally to please their employer and gain trust in the process.
Why you should read this book?
The reason why you should read this book is that you will learn how to be a leader who understands the employees and how to develop trust in the organization or team.
You also learn the importance of taking part in team building so as to produce quality products (for the organization) in large volumes. Sinek states that "if your actions inspire others to dream big, learn more, do more, and become more, then you are a leader."
4. Lean in: Women, Work and the Will to Lead
Facebook executive Sheryl Sandberg is the author of Lean In; The book entails topics on women and leadership. This is among the most popular book for leadership in women. Sheryl talks about how women hold back from pursuing their careers because of gender. She explains that women are scared to take up opportunities that come their way and they tend to be passive and polite.
Why do you actually need to read this book?
For those women seeking empowerment, Sander encourages you as a woman, to uphold yourself and look for powerful mentors to train you with adequate skills to take you to that level of leadership you want to be in.
Right now, women have great opportunities to lead all over the world and if you are among those questioning how you can rule a great nation, this book has the answers to all that you just need, so take some time to read it.
5. Learning to Lead: The Journey to Leading Yourself, Leading Others Leading an Organization
Ron Williams the writer of Learning to lead who is also the C.E.O of RW2, former chairman, and C.E.O of health insurance giant Aetna Inc. says that the book is not about executives who want to excel higher but is about readers who are new to their careers and they are struggling to get on the right path of leadership.
Why you should read this book?
The authors inspire you not to let other people define who you are and what you want to become, and what you can accomplish. The book offers you advice, that to gain success, you need to be yourself, instead of paying attention to other people's opinions of who you are.
For one to be practical one needs to seek jobs in institutions that are growing where one can gain more experience and get mentorship from qualified professionals.
6. Primal Leadership: Unleashing the Power of Emotional Intelligence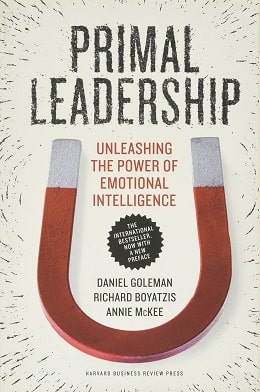 The book Primal Leadership talks about the importance of leader and employee connection and also, the ability to encourage your staff as a leader. The book educates leaders to identify and navigate their people's affection and try their best to put themselves in the shoes of the employees and be able to construct intelligent institutions.
It educates us that emotionally intelligent leaders should avoid misinterpretation and wrong judgments. They should also monitor workers carefully while allowing them to air their ideas or complaints instead of being ignorant.
Why you should read this book?
Some of the reasons you should read this book? The book will help you as a leader to encourage collaboration, and also the need for appreciating workers. This can boost the mood which will enhance performance in the workplace. From the book, you can get strategies for detecting a problem, as well as effective solutions without escalating the problem or pointing fingers, and not just fire employees for merely airing their grievances.
7. Immunity to Change: How to Overcome It and Unlock the Potential in Yourself and Your Organization.
The writers of Immunity to change explains that for one to be a good leader, one needs to understand other peoples' demands or needs, and what can hinder them to achieve their goals. Knowing this will enable you to support individuals solve problems, and staying on the right path for them to achieve their goals.
The book will help you know your purpose and it will also tutor you on how to disregard unnecessary goals.
Why must you read this book?
This book will be a guide to help you stay on the correct path, understand what you exactly want, and how far you can go to reach your full potential. We all need to follow our dreams and goals to succeed and in addition to that, conduct some research to achieve that.
If you are looking for a book to enable you to attain your greatest achievements by climbing the ladder to success, this is the book you must read.
Conclusion
There are many books one can read to improve skills in becoming a professional leader. These books are written by people who have skills and experiences in the field of leadership. Reading these books will not automatically make you a skilled leader, but they will give you clues about the qualities of a good leader. They will also give you guidelines, and good advice to become a strong leader.
These books will further inform you how a leader should work with their employees and how to treat them for there to be a good relationship and for peace to prevail. This will then lead to earning respect and trust from the juniors. You also get motivated employees who can work under minimal or no supervision. The books also emphasize why we should encourage women to stay alert as leaders and that they can be leaders of tomorrow. This will help create a better future for all.