Congratulations! You have just found our list of the 7 best habit books to read and change your life forever. Habit is a simple but quite powerful word. It forms the basis of all behavior that a person exhibits without giving a lot of thought to it.
Habits consist of all actions, decisions, and considerations that one takes, all in a kind of ritual, specific to each individual. When you wake up in the morning, there are those specific things that you do.
For example, you kick the blanket, reach out for a toothbrush, take shower while singing and creating funny lyrics, take breakfast, and jump into your shoes on your way out. Do you do this because you are good at making well-thought-out decisions? Surprisingly no, these are just habits. That is why psychologist William James said in 1892 that life is a mass of habits.
Although each habit can seem insignificant on its own, what you do and how you do it has enormous effects on your health, happiness, financial security, productivity, intelligence, and all other aspects of life. Do you exercise? How and what do you order for lunch? What is your work routine? How do you organize your thought? These are just a few behavior-forming habits that define the type and quality of life you live.
Read more: Bad Habits Quotes To Inspire You to Change Habits
Tips to Build Better Habits
Before going to the list of best habit books, you can build and improve habits by doing the following;
Write down and understand your goals.
Avoid situations that link to bad habits.
Get the right solution for your cravings.
Make good acts easy and bad ones difficult.
Discover the root causes of bad habits and act on them.
Go for healthy routines.
Motivate yourself to better your life.
You need the best habit books to cultivate productive and healthy behavior. Our list of books to help form good habits is quite vital. You will get books that help you overcome procrastination, help you make use of and maximize time, and even help you form positive routines in order to experience a quality life.
Best Habit Books of All Time
Whether you're looking to improve your physical or mental health, or simply want to make positive changes in your life, these habit changing books can offer valuable insights and guidance to help you achieve your goals.
The below-listed books are packed with research-backed strategies and real-life examples to help readers understand how to create and maintain good habits, as well as overcome obstacles and setbacks.
1. The Power of Habits Written by Charles Duhigg
The Power of Habits is one of the best habit books that use a scientific lens into behavior and that you can read today. Once developed, habits are performed totally subconsciously. For example, you can safely reverse your car from the garage out to the street without much attention to the specific actions that you do. You just know how to do this and you always do it. This is the habit for you!
Why is this book a must-read for you?
It teaches you to be deliberate and proactive in building good habits. The Power of Habits has three important parts that analyze habit from individual, organizational and societal perspectives. Instead of giving steps and direct advice to change behavior like other popular habit books, this one gives you observations that will help you understand habits and use them as the basis for change.
2. Atomic Habits: An Easy & Proven Way to Build Good Habits & Break Bad Ones Written by James Clear
If you are looking for one of the most popular habit books in the market today, Atomic Habits is your very best bet. In this book, James Clear makes it clear and precise about how to form habits and make them last. In addition to this, the author takes the reader through the journey of different habit-forming myths that many other misleading books try to propagate.
Why is this book a must-read for you?
When you read this book, you will understand that defective systems are always to blame for the failure of a person to quit bad habits and create good ones. You will also get to know that the best way to positively change behavior is to work out on your surroundings to make bake bad habits difficult and good ones easy to form.
3. The 7 Habits of Highly Effective People Written by Stephen Covey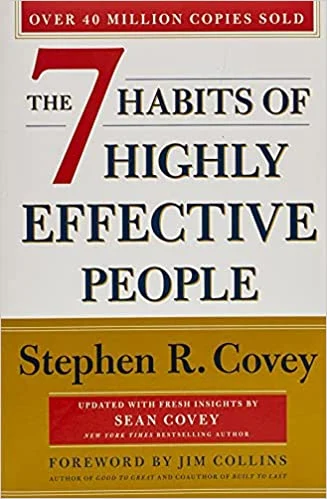 Among the most popular books on habits, The 7 Habits of Highly Effective People performs quite excellently. The author Stephen R. Covey provides the types and categories of habits that differentiate high performers and achievers from the common general population. He singles out the seven habits that all highly successful people have in common and why you should emulate them. These habits include proper goal-setting, being proactive in life, and forming the right behavior patterns.
Why is this book a must-read for you?
No one would turn down an opportunity to learn the habits that successful people have. By reading this book, the author will take you through the details of the seven important habits that are only found in successful people. You will also get useful tips on how to incorporate these positive habits into your life.
4. Tiny Habits: The Small Changes That Change Everything Written by BJ Fogg, PhD
If you are looking for a habit book that will help you discover the power of using small (tiny) changes in your routine to unleash the full power that habits consist of, then Tiny Habits is the book for you. This is a perfect instruction manual that gives you a step-by-step guide on how to make big changes using small steps. Using two decades of coaching and research experience, BJ Fogg, a Stanford expert in habits, shares proven and sure methods of making enormous and lasting changes.
Why would you care to read this book?
The benefits are quite obvious. Things can sometimes get quite chaotic and experiencing change is not the easiest route out there because it has a lot of elements that come into play to form it. Fogg is in agreement with this idea and focuses on letting you know why breaking down habits into "sub-habits" can help you make small but positive changes. If you like taking things step by step, then Tiny Habits should be number one on your list of best habit books to read in 2023.
5. Elastic Habits: How to Create Smarter Habits That Adapt to Your Day Written by Stephen Guise
If you are looking for the best habit development books that can change your life, Elastic Habits is definitely your first and most interesting choice. The guiding principle in this book by Stephen Guise is that forming flexible habits that allow for freedom tends to be extra successful than following rigid and inelastic rules. The author argues that people tend to go by an all-or-nothing attitude and when this proves to be difficult or impossible, they tend to abandon the objectives in totality instead of adjusting the objectives to suit the prevailing circumstances. However, flexible habits allow people to adapt to situations as they present themselves.  For example, instead of abandoning a rigid workout activity of 40 minutes per day, you can cut it to just 20 minutes and achieve good results.
Why is this book a must-read for you?
The book helps you to realize the importance of following flexible rules in life. Strict ones take extra energy from you that you would use to make your life even better. Do you want to know the difference between elastic (flexible) and static (rigid) habits? Do you want to know how setting flexible goals can help you in life? Grab this book and discover it for yourself.
6. The Effective Executive Written by Peter Drucker
The Effective Executive is another popular habit book for you to sample if you want to be habitually better in life. Peter Drucker, the author of this habits masterpiece, argues that effectiveness is something that must be learned. Do you find this a little philosophical? Do not be scared. All he means is that to be effective is a habit and at the same time, to be ineffective is also a habit. You may think you are effective but in reality, you are only efficient. When doing things right, you are efficient, but when doing the right things, you are effective.
Why is this book a must-read masterpiece?
This is because it helps you discover how to do the right things, the right way. It teaches you how to be effective and therefore successful in habit-forming, development, and success.
7. Good Habits, Bad Habits: The Science of Making Positive Changes That Stick Written by Wendy Wood
If you are looking for an opportunity to go deeper into the psychology of behavior change, look for no other book; Good Habits, Bad Habits is what you need to read. The book provides a perfect breakdown of basic elements in the habit-forming process. In addition to explaining the psychology behind self-improvement, the book provides information that other habit books omit when showing how to adopt a positive mindset to achieve success.
Why is this book a must-read for you?
The book is full of informed research and scientific principles presented in the most entertaining manner for you to form better habits in life.
Best Habit Books: Conclusion
Change is always difficult to achieve while a change in behavior is even harder. Many people try to change their habits and fail miserably. This is because they are not conversant with the science behind behavior development and patterns. Are you trying to change and you find yourself collapsing in a heap?
We have developed a list of the best habit books for you to read and change your life for the better. Use these books on habit formation and development to turn your life around. Also check out this article on communication books.