Have you ever stumbled across a quote that so deeply connects with you that it feels as if it was written just for you? That's how I feel whenever I come across a Mandy Hale quote. Mandy has an amazing ability to compress complicated emotions and experiences into simple, powerful lines that get to the heart of the matter.
Her words have inspired millions of people worldwide, including me.
In this article, we'll look at some of her most inspiring quotes and the lessons they can teach us. So grab a cup of tea, relax, and prepare to be inspired by Mandy Hale's wisdom.
Whether you're feeling lost, overwhelmed, or just in need of a little inspiration, Mandy's quotes never fail to lift you up and remind you of the power you have within yourself.
Who is Mandy Hale
Mandy Hale is an American author, speaker, and blogger best known for her self-help and uplifting books for women. She has published many novels, including "The Single Woman: Life, Love, and a Dash of Sass", "I've Never Been to Vegas but My Luggage Has", and "Beautiful Uncertainty". Her writing focuses on personal growth, self-love, relationships, and empowerment.
Here are some well-known facts about Mandy:
Mandy Hale was born in Tennessee, United States, on July 8, 1978. She began her work as a blogger, documenting her own journey of self-discovery and progress as single woman empowerment.
Her blog, "The Single Woman", quickly gained a large following, and she went on to publish her first book with the same title in 2013, which became a best-seller.
She is a frequent speaker and has appeared in media such as The Huffington Post, Glamour, and Cosmopolitan.
She is a strong advocate for mental health and self-care, and she frequently shares her personal experiences with anxiety and depression in order to help others who may be going through similar situations.
Mandy is well-known for her honesty and vulnerability, and her writing and speaking style is frequently regarded as personable and down-to-earth.
Inspiring Mandy Hale Quotes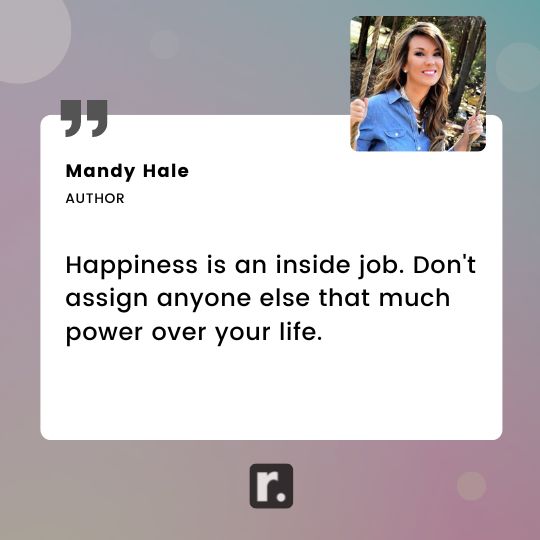 [/alert-warning]
Famous Mandy Hale Quotes
Wrapping up:
In a world that often tries to tell us who we should be and what we should do, Mandy Hale quotes remind us that our lives are our own to live.
Whether we're struggling with self-doubt, searching for happiness, or simply trying to find our way, her words offer a beacon of hope and encouragement.
By embracing her wisdom, we can learn to trust ourselves, love ourselves, and create a life that is truly our own. So let's take a closer look at Mandy Hale's quotes and see what they have to offer us.
Read next: